The bloody incident in Dong Tam took place three years ago. If according to the Vietnamese custom of rebury, now is the time for those who died in the early morning of January 9, 2013 to prepare for grave transfer.
Dong Tam is still a mystery about the leader of this devastating campaign, it is rumored that the mastermind is this guy, that guy. Some people even said that it was not a mastermind from a high level like the Politburo or the Ministry of Public Security, but just a certain public security general.
On the occasion grave transfering of those who died in Dong Tam 3 years ago, we invite readers of Thoibao.de to go back in time to review some details that at that time, during that terrible upheaval, few people understood.
On January 22, 2019, Lieutenant General Pham Quoc Cuong, Commander of Mobile Police held an exercise, involving the Capital Riot Police Regiment and the 1st Special Operations Police Battalion. Exercise is to handle situations:
– To deal with large gatherings of people, disrupting security and order, and political riots.
– Combating terrorism, kidnapping hostages, clearing mines, fighting fires.
Lieutenant General Pham Quoc Cuong said that before the complicated situation of crime, social order and safety, especially criminal, drug, and weapon-using crimes, the people's police force in general and the riot police force in particular must be proactive in plans, forces and means to promptly and effectively handle possible situations, successfully complete their assigned tasks. Training and drills must be conducted regularly, thereby training and improving command and control capabilities as well as professional qualifications for commanding officers at all levels, the ability to synergistically operate between different forces.
Lieutenant General Cuong requested that units take the initiative in their forces and plans to be ready to handle when complicated situations arise, not to be passive or surprised. In the immediate future, ensuring security and order for the Lunar New Year, the Lunar New Year of the Rat 2020 and according to the electricity and orders of the Minister of Public Security.
Less than two months later, at the exact time that Mr. Cuong said, the Capital Riot Police Regiment and the 1st Special Police Battalion were present in Dong Tam, to properly handle the two situations they had encountered. practiced a little while ago.
Pay attention to Lieutenant General Cuong's instructions that his forces were requested to be ready to carry out the orders of the Minister of Public Security. This means that, without any text, just word of mouth or a phone call from the Minister himself, the task will be done.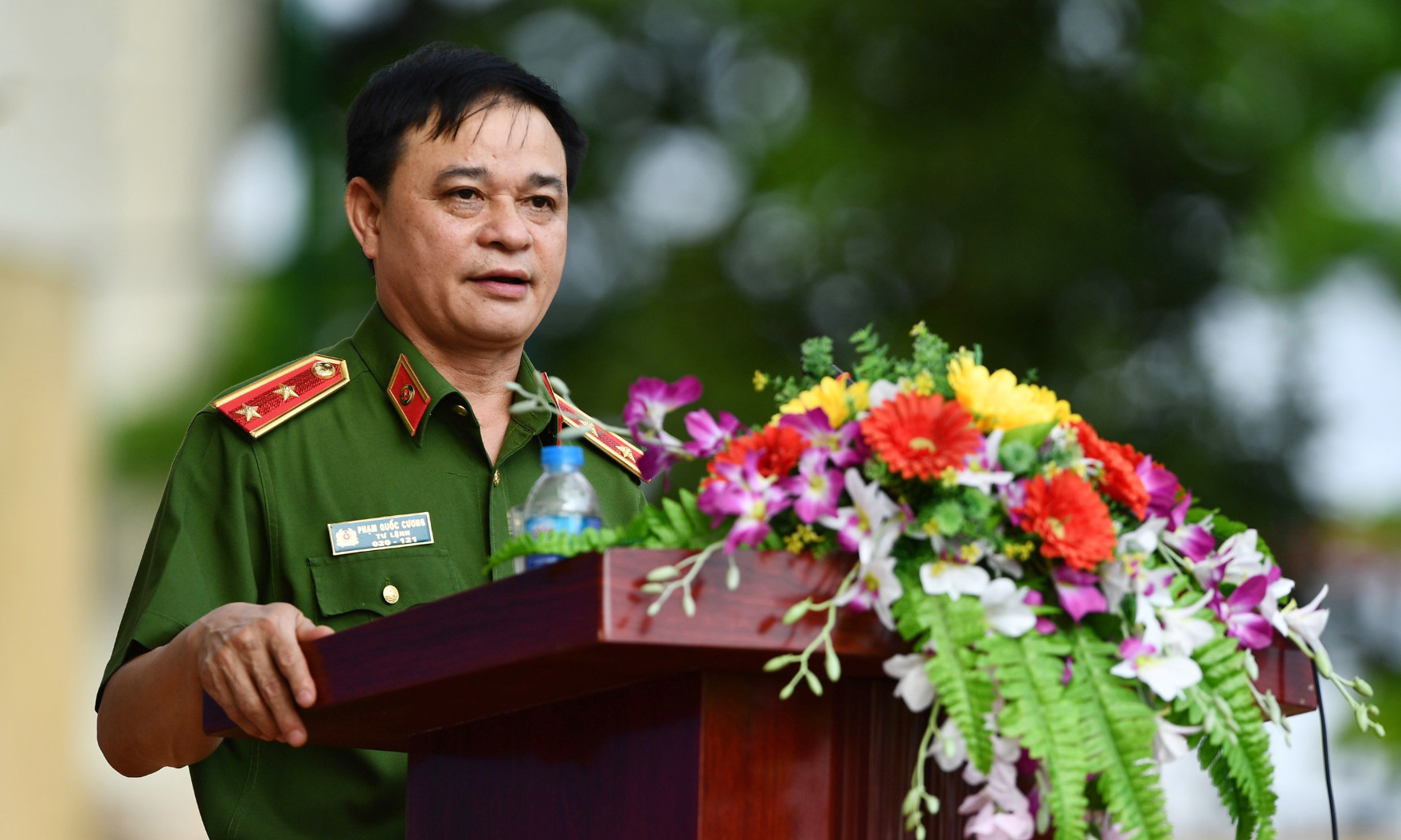 At this point, it is clear that there are two people who advocate the bloody suppression in Dong Tam, the Minister of Public Security To Lam and Lieutenant General Pham Quoc Cuong, the implementing unit is the Capital Riot Police Regiment and the 1st Special Operations Police Battalion. In which, the key role in the attack belonged to the 1st Special Police Battalion, stationed in Bac Tu Liem, Hanoi. This unit, as Lieutenant General Do Duc Kinh, Political Commissar of Riot Police Command once introduced:
– "The 1st Special Forces Police Battalion was established on March 12, 1997, is the first special police unit of the Police force, with the task of "Regularly practicing, responding to combat High combat readiness, ready to maneuver to prevent and promptly suppress terrorism, hijacking, hostage abduction, clearance and remediation of bombs and mines, and participate in the pursuit of dangerous criminals. … on the orders of the Minister of Public Security and the Riot Police Commander."
After 3 years since the bloody event in Dong Tam, names like Pham Quoc Cuong and Do Duc Kinh are probably mentioned for the first time now.
General Kinh has retired, and General Cuong, although reaching retirement age in 2022, was favored by Minister of Public Security To Lam to extend for another year, lasting until March 2023, to work as an assistant to Minister To Lam. Perhaps Mr. To Lam wanted to keep General Cuong with him to keep his phone call 3 years ago with General Cuong in secret.
General Cuong should take notes on January 7, 2020. Otherwise, people in next generations will only know that the bloody case was responsible for General Pham Quoc Cuong.
Contributor thoibao.de sent from the old Ha Tay.