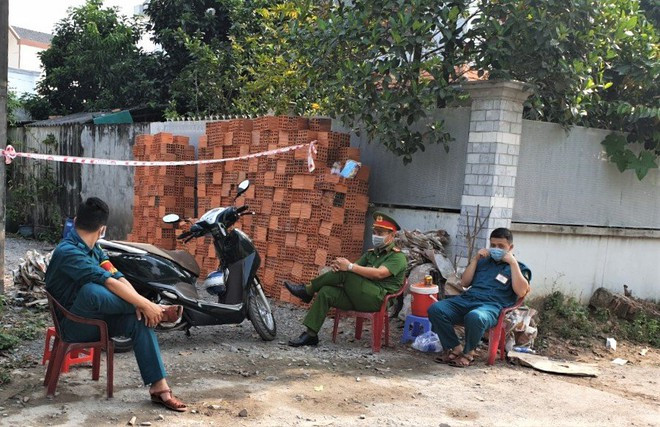 A young man named K. entering Vietnam illegally and going to District 9, Ho Chi Minh City, has a positive test result for Covid-19. This means that among 6 people who entered illegally, 4 people were infected with the coronavirus.
Facing this issue, there is an opinion that Vietnam needs to adjust its immigration policy more easily to prevent illegal entry.
A journalist commented to BBC News Vietnamese on December 29: "Dripping repatriation is a deliberate policy of the government under current conditions. And it has also proven effective in the initial period."
How is the new case?
Up to now, the authorities have identified 17 people in close contact with the person named K. All have been quarantined and tested according to regulations.
K was among the group of 6 people who illegally entered Vietnam in the early morning of December 24. This group includes patient No. 1440 (in Vinh Long), patient No. 1451 (living in District 5, HCM City), a woman named N. in Dong Thap (who had a positive Covid-19 on the morning of December 29), one person named V. in District 1 and one named T. in Hoc Mon district.
Except for the last two people listed above who had the first negative results for Covid-19, the remaining 4 people were positive.
Patient No. 1440 reports that he lived in Myanmar from September to mid-December 2020.
On December 15, this person left Myanmar for Thailand and stayed at a hotel there until December 22 with 5 other people.
On December 23, a group of 7 people went from Thailand to Cambodia. After that, 6 people in the group went from Cambodia to Vietnam. When arriving in Vietnam, the group went to Ho Chi Minh City by 7-seat car. We have tracked people on this vehicle.
On the way, patient No. 1440 and the woman in Dong Thap separated to go to the West, the rest continued to HCM City, including H. (living in District 5), V. (District 1), T. (Hoc Mon), and K. (District 9).
After hearing that patient No. 1440 was positive for Covid-19, H. just made a medical report and was sampled to test, the results were also positive.
Where is the hole?
The face of the situation that 4/6 people who entered illegally were found to be positive for the virus, the authorities of An Giang, Vinh Long, Can Tho, Hau Giang … were nervous, urgently searching and tracking the group of people illegally crossing the An Giang border. However, traceability is difficult.
Tuoi Tre newspaper quoted Colonel Nguyen Thuong Le, commander of the Border Guard Command of An Giang province, as saying that the area of ​​Bung Nho hamlet belongs to the border areas but is located deep inland and there is no working group of the border guard in this area, but only the mobile patrol force so it is difficult to trace,
The leader of the Ministry of Public Security, Mr. To Lam, on the morning of December 29, said that on average every day there are hundreds of people entering and leaving illegally, creating great pressure on the functional forces at the grassroots level.
Accordingly, about 70,000 Vietnamese citizens in foreign countries have been picked up by the Government, but the number of repatriation needs is still very large, increasing rapidly at the end of the year.
In addition, many Vietnamese workers are working in regional countries such as Laos, Cambodia, Thailand, China. Recently, the number of people returning from China and Cambodia is very large.
"It is necessary to take measures to ensure good reception of people and prevent epidemics," said General To Lam.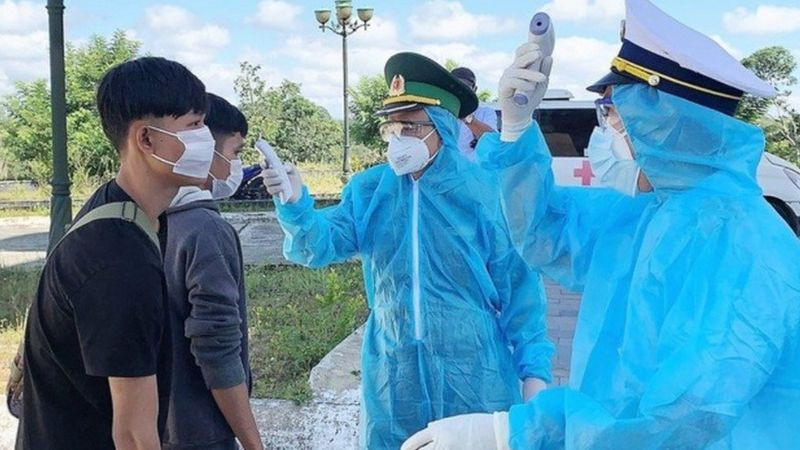 Earlier on December 23, Health Minister Nguyen Thanh Long warned at the end of the year that the risk of Covid-19 outbreak was very high.
"Currently, there are about 100-150 cases of illegal entry every day at the border. Therefore, localities, especially provinces with border areas pay great attention, further strengthen to prevent illegal entry," he said.
Illegal immigrants are seen as a threat that can make. The country's anti-epidemic efforts ineffective.
For example, Thailand is also considered as one of the countries with good disease control because there have been no cases in the community for many months. But Thailand was turned upside down when an outbreak at the Mahachai seafood market in Samut Sakhon province occurred.
The Thai authorities suspect that those who illegally crossed the border from Myanmar, including Burmese and Thais, are carrying the germs. At least 10 Thais infected with Covid-19 are those returning from Myanmar who did not declare entry.
Thai Prime Minister Prayuth Chan-Ocha said bluntly in a live speech on December 22, "The outbreak in Samut Sakhon this time is due to illegal immigrants. They are guilty of the disaster to our country."
Facing the situation of people entering illegally, including Vietnamese workers in neighboring countries, many people believe that this is partly because the government's repatriation policy has not met the needs of many people who are stuck in foreign countries, especially the Tet time is approaching.
On his personal Facebook, lawyer Phung Thanh Son commented: "If the Government has an easy return policy for Vietnamese people, the illegal entry will be greatly reduced and Covid-19 infection will be reduced."
Some people also believe that, if the entry is easier, not many people risk walking illegally, but also give their opinion if the entry is easy, the Vietnamese health will be under pressure and can not stand with a large number of people if they are infected with Covid.
Commenting to the BBC, one journalist acknowledged:
"With the current health system of Vietnam, if the number of infected cases is about 2,000 people/day, it will be overloaded. Vietnam at the highest point of time is only about 300-400 positive people needing treatment. In order to change its immigration policy, Vietnam needs to do two things:
First, upgrade the country's quarantine system or centralized quarantine facilities to the best possible. The second is to upgrade the best treatment capacity to accommodate the number of patients who are hospitalized during peak times.
However, in my opinion, both of these are not viable under the current conditions of Vietnam. So dripping repatriation is a deliberate policy of the government to the present conditions. And it also proved to be effective in the early stages," this person commented.
Thoibao.de (Translated)