High-ranking Chinese diplomat Wang Yi said on Saturday that Sino-US relations are facing the most serious challenges since diplomatic relations were established in 1979, but the two countries could still be back in the right direction, according to Reuters.
"China and the US should explore ways to coexist peacefully and release more positive energy," Reuters quoted State Councilor and Foreign Minister of China in a speech posted on the website of this ministry.
Washington and Beijing are in a state of confrontation over the handling of the corona virus outbreak, China's actions in the former British colony of Hong Kong, the long-running trade dispute and the conflicts in Taiwan and the South China Sea.
"The current US policy towards China is based on misconceptions of strategy, lack of practical basis and full of spontaneous emotions and prejudices of McCarthyism," Wang said, implying the anti-communist policy of an American congressman in the 1950s.
On July 8, US Secretary of State Mike Pompeo said that the world should not let China's bullying continue, and highlighted its territorial dispute with India, Vietnam and Japan.
"The two countries should not find ways to replace each other," said China's Foreign Minister. "China cannot and will not become another United States," he said, adding that the socialist system that fits China is the people's choice.
Wang said he hoped the US would build a more objective understanding of China and build a more rational and pragmatic Chinese policy.
"More dialogue, separating different issues, setting aside the biggest areas of disagreement and cooperating against the coronavirus pandemic will help put bilateral relations in the right direction," Wang Yi said.
US President Donald Trump hinted that he no longer cared about the possibility of signing a phase 2 trade agreement with China, the latest sign of a deteriorating bilateral relationship.
Specifically, when asked by reporters about the possibility of another trade agreement with China, President Donald Trump replied: "I don't think about this now … Actually I have too many other things in my head," according to the South China Morning Post.
President Trump also said that Washington-Beijing relations were "seriously damaged", amid tensions over many issues, from trade, the Covid-19 pandemic to the issues of Hong Kong and Taiwan.
"We are ready to develop China-US relations with goodwill and sincerity," Chinese Foreign Minister Wang Yi said on July 9 in a message posted on the ministry's official website. "Some US officials are suspicious or even wary of China's development. Once again, I would like to emphasize that China never intends to challenge, replace or confront the US. Our top priority is to improve people's livelihoods."
Just one day earlier, in an online discussion on US-China relations co-organized by the Chinese People's Foreign Affairs Institute and the Asian Association, Deputy Foreign Minister Lac Ngoc Thanh also confirmed that China is ready to cooperate with America.
Beijing's diplomats also emphasized the prerequisite to motivate bilateral relations mediation, that the US respects Chinese decisions.
According to Minister Wang, the US-China are experiencing the most serious challenges since the two countries established diplomatic relations so far. Wang criticized the current US policy with China as "full of paranoia." "It seems that every Chinese investment in the eyes of the US is motivated by political intent, every Chinese student is a spy and every cooperation initiative is an implicit agenda."
Deputy Minister Lac Ngoc Thanh declared: "I always find it hard to understand why the US always seeks to influence and change other countries in state relations? Why is the US trying to impose its ideology on other governments? … There are fundamental differences between China and the US in the social system."
In a tone calling for reconciliation this week, it seems Beijing officials are trying to mend ties with the world's largest economy. "President Xi Jinping has repeatedly emphasized that we have thousands of reasons to bring good US-China relations back. There is no reason to destroy that close relationship," emphasized Wang.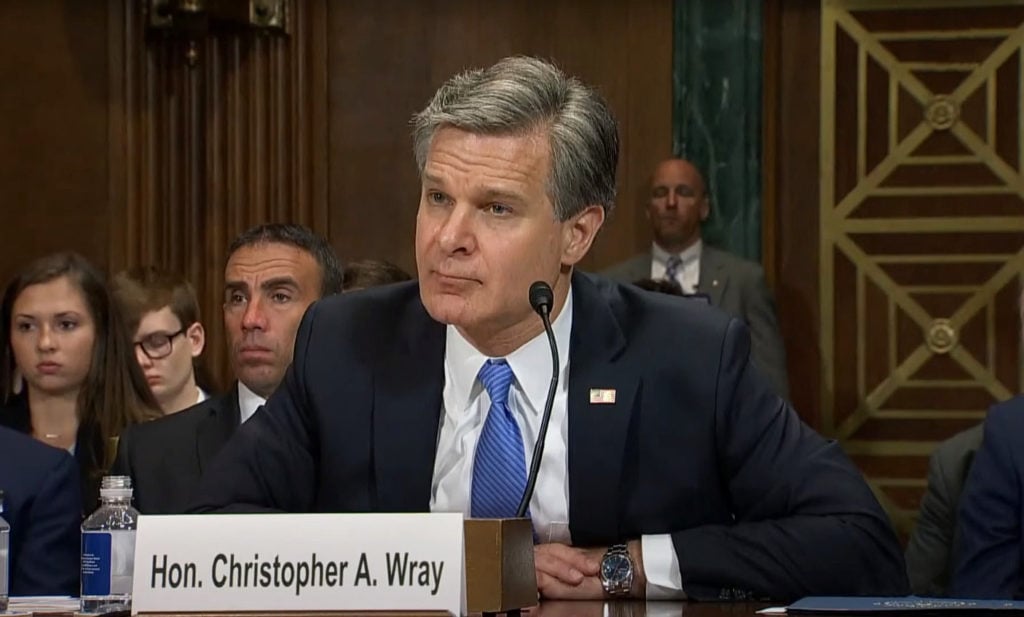 The FBI director said that the Chinese government's intelligence operations and intellectual property theft were "the greatest long-term threat" to the future of the US.
Speaking at the Hudson Institute in Washington, Christopher Wray described a multi-objective disruptive campaign conducted by the Chinese government, he said China had begun targeting Chinese citizens living abroad, forcing them to return and seeking ways to ruin US corona virus research.
"China has a nationwide effort to become the world's only superpower by all means," he added.
In a nearly hour-long speech on Tuesday, the FBI Director outlined a clear picture of China's intervention, an economic espionage campaign, data and currency theft, illegal political operations, using bribes and extortion to influence US policy.
"To the extent that now every 10 hours the FBI has to open a new spy investigation involving China," Mr. Wray said. "Of the nearly 5,000 espionage investigations that are being carried out across the country, nearly half involve China."
The FBI director said that Chinese President Xi Jinping led a program called "Fox Hunt", targeting Chinese nationals living abroad that are considered a threat to the Chinese government.
"We are talking about political opponents, dissidents, and critics seeking to expose China's sweeping human rights violations," he said. "The Chinese government wants to force them back to China, and China's tactics to make that really shocking."
He continued: "When it was impossible to find the whereabouts of an object targeted by 'Fox Hunt,' the Chinese government sent people to his family in the US. What message did they send? Two options: return to China immediately or commit suicide."
This is not the first time FBI Director Christopher Wray has classified China as a "top intelligence threat" to the US, but on Tuesday he intensified criticism by focusing on "national efforts" of Beijing to become the world's only superpower.
This clearly signals that Washington now sees Beijing not only as an aggressive enemy but also as an ambitious opponent for global leadership.
Since the Covid-19 outbreak in the US, the Trump administration has vented its anger on China from its initial response to corona virus, economic espionage, to national security laws imposed on Hongkong. Mr. Wray's speech is part of a series of heavy speeches by senior US officials on the subject.
Trump's administration says it is time to wake up after 40 years of policy failure involving China, while critics see it as an attempt to divert attention from the president's own failure and Increase your chances of winning the re-election.
What is certain is that the power interactions between China and the US have fundamentally changed, and no matter who will be the next US president, the tense deadlock in Sino-US relations is sure to continue.
In an unusual speech, Mr. Wray asked Chinese people living in the US to contact the FBI if Chinese officials forced them to return.
The Chinese government once defended the "Fox Hunt" program, saying it was part of a legal anti-corruption effort.
The threat posed by China will continue to be presented by the US Secretary of Justice and Secretary of State in the coming weeks, Mr. Wray said.
The FBI Director's speech comes amid rising tension between the US and China.
In another move, Secretary of State Mike Pompeo said this week that the US administration is considering banning Chinese social networking apps – including TikTok.
The applications "are used as part of the surveillance system of the Chinese Communist Party," Pompeo said.
Thoibao.de (Translated)