A new case caused a stir in the social network because she was a friend of patient No. 17, because she was also a beautiful young woman and a child of a wealthy family which hired by a private jet to bring her back to Vietnam. She is also related to a group of famous fashion models of manager Vu Khac Tiep. Vietnam's newspapers reported that the female patient No. 32 (24 years old, Vietnamese nationality) is living in London. On the evening of Feb 27, the patient attended a party and hung out with Vietnam's patient No. 17 in London, with a group of their friends.
Famous journalist Le Nguyen Huong Tra wrote quite succinctly about this incident with the tone of a status on Facebook, which has more than half a million followers as follows: "Regarding Nhung richkid, the 32rd covid-19 patient was Tien Nguyen (24 years old), the daughter of Johnathan Hanh Nguyen, chairman of Lien Thai Binh Duong (Trans Pacific Corporation).
Accordingly, on the night of Feb 27, Tien went out with Nhung and a group of their friends. On March 2, she had the first symptoms of Covid-19 and took medical check-up in a hospital in London and she was asked to stay at home for treatment. On March 7, when she heard that Nhung was infected, she went for re-examine and made a history of exposure. London hospitals required home isolation, no testing done.
Tien Nguyen made a noise yesterday when writing on Instagram, saying that "her father arranged a private jet for her" from England to Vietnam.
Tien Nguyen arrived at Tan Son Nhat at 20:15 on March 9 and was immediately quarantined and sent to be treated at the Hospital for Tropical Diseases in Ho Chi Minh City.
The test results here confirmed that Tien Nguyen was positive for Covid-19. On the night of March 9, she had fever, coughing, chest pain, chest X-ray with infiltrated lesions, spread tissue spread across two schools … etc. "
  
Contrary to many other cases, all information about this girl was immediately published in the newspaper with photos of a beautiful hot girl named Thao Tien and model brother-in-law Tang Thanh Ha. The Vietnamese press also said that the plane that brought patient No. 32 to Vietnam had a rental price of about $360,000.
A flight from England to Southeast Asia with Falcon 8X costs about $360,000. Patient No. 32's family revealed a total cost of nearly VND10 billion.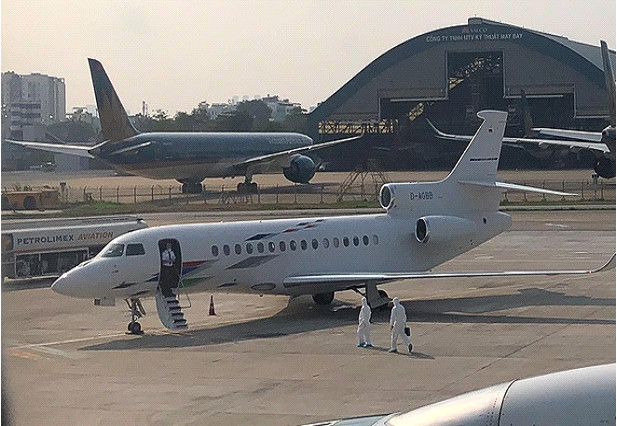 According to the image recorded at Tan Son Nhat airport, the plane hired by the family carrying Vietnam's 32-year Covid-19 patient from England to Ho Chi Minh City with the number WGT2B.
International data shows that this aircraft is part of the Falcon 8X. The price of a trip from UK to Southeast Asia is usually about $360,000/trip, equivalent to about VND8.3 billion, according to Privatefly and many brokers.
The Dassualt Falcon 8X made the 32-patient flight to Vietnam owned by VW Air Service, a German national. The age of the aircraft was not announced.
According to FlightAware.com, the flight from London to Ho Chi Minh City lasted nearly 13 hours, landing at Tan Son Nhat at 8:12 am on March 9. This data coincides with information about the journey of Covid-19 patient No. 32 in Vietnam.

Due to moving by private plane to the quarantine, patient 32 did not have any more contact and there was almost no occurrence of F1.
Vietnam's newspapers posted a picture of patient No. 32, a beautiful young hot girl named Thao Tien, a model younger sister of top model Tang Thanh Ha's husband.
This patient is a female, 24 years old, Vietnamese nationality, living in London, England, having contact with the female patient No. 17 in London on Feb 27.
About epidemiological information, the patient started coughing on March 2 in London, no fever. This person went to a hospital in London to examine and was given medicine to go home for treatment.
On March 7, after hearing the news of her friend- the patient No. 17 infected with Covid-19, she went to the hospital for re-examination and was given home medication but the symptoms of a dry cough did not subside, without a fever.
Unsafe about health, the patient hired a private jet (WGT2B number) to Vietnam and entered Vietnam at 8:15 on March 9, body temperature 37.5 degrees C, dry cough, immediately transferred to the Field Hospital in Cu Chi (Ho Chi Minh City) with specialized vehicles being strictly isolated.
X-ray images of patients with interstitial pneumonia. At present, this person is awake, has a good birth performance, has a lot of dry cough, has a slight red throat, has no fever, breathes smoothly and can breathe by herself. On the evening of March 9, test results at the Hospital for Tropical Diseases in Ho Chi Minh City confirmed that the patient was positive for Covid-19.
Thanh Nien (Youth) newspaper recorded directly on the original picture with the words: smart processing phase goes into people's hearts, rich and conscious, tears in their eyes
The newspaper wrote: A relative of patient No. 32 revealed to Zing.vn that her family did not want to show off. But to ensure the safety of girls as well as everyone, they had to rent a private plane."
"The family can cover the business space for their daughter from England to Vietnam, but they realize that it is not safe enough for her and everyone because she has time to stay in the epidemic area. Therefore, by their relationship, they have chartered a private plane to bring their daughters to Vietnam," this person said.
"As soon as she landed at Tan Son Nhat International Airport, the family complied with the regulations of the Ministry of Health, leaving her daughter in isolation at a field hospital."
Relatives of the female patient also revealed that to rent a private jet to transport her, the family spent nearly VND10 billion, including aircraft rental, waiting fees and sterilization of the plane.
"In addition, in order to rent a private plane from the UK, the family must use their wide relationship. At that time, for them, the safety of their daughter and everyone is the most important," he said.
  
Concerning Mr. Nguyen Quang Thuan, patient No. 21, Hanoi Chairman Nguyen Duc Chung said that more than 500 people F1 and F2 were contacted with him. He also affirmed that this is the patient with the most complicated movement and contact and the highest risk of Covid-19 transmission in Hanoi city.
Information about Prof. Thuan was shared a lot on social networks that: "I'm in a villa with three villases in a row adjacent, golf card 3 billion/year, business class fights, parties with beautiful singers, … I work as a path theorist of the proletariat"
Dr. Nguyen Ngoc Chu of this incident said that "Foreign trip is a form of greed for enjoyment". He analyzed:
The No. 21 Wuhan Virus patient went to Hanoi – London round-trip business class (not less than $3,000), valued at over VND70 million. If the price of a 5-star hotel is $300 USD, that is VND28 million. Plus the cost of local travel and food the total cost for the trip is not less than VND120 million- equal to prices of 12 tons of rice. With the mission in the trip of 12 people, the costs no less than 100 tons of rice.
 
Foreign trip is a form of corrupt enjoyment. Not all of them, but a lot of people are hiding in the guise of traveling abroad to insatiable personal spending budget.
Prominent are the leaders of large state-owned enterprises and the elite from provincial to central levels.
Every year, the Government and local governments across the country spend not hundreds of billions but thousands upon billions!
For example, a few years ago, former Minister of Industry and Trade Vu Huy Hoang in a year went on business trips abroad for up to 163 days. Those are business-class flights and accommodation at a 5-star hotel.
Former US Vice President Joe Biden, very majestic at the inauguration ceremony of President Donald Trump on January 20, 2016, but then he was only transported to the train station by a public service car, and went home with his own money in a normal train seat. Many similar cases can be cited, such as German Chancellor Angela Merkel, when necessary, ready to sit in the economy class, and Singapore Prime Minister Lee Hsien Loong takes cheap flights.
Vietnam is a very poor country, but the way the public officials and leaders of state-owned enterprises spend their money on business trips has surprised many Vietnamese and internationals about the luxury life of the Communist Party members.
Hoang Lan from Ha Noi – Thoibao.de (Translated)