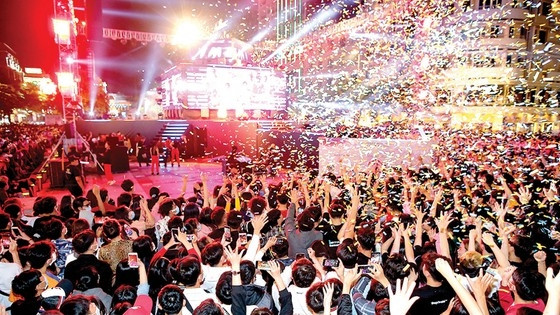 Young Dang Quang hurriedly joined the crowd of people in Saigon, after the last working day of 2020 to get home to welcome the New Year's Eve 2021.
Sharing with RFA without wasting time when we contact, Dang Quang said that he wishes everyone around the world health and the COVID-19 pandemic to be controlled in 2021.
Dang Quang confided that despite many difficulties in life due to the COVID-19 epidemic, he feels fortunate that he can still speak, smile, and see healthy and safe relatives and friends in the world during the deadly pandemic.
Because the job has been delayed for several months, Dang Quang said that he will try harder to work and contribute to the community in his power to help each other overcome difficulties in 2021.
"Personally, I hope that for the people who have paid taxes and when a pandemic occurs, unable to work or experiencing difficulties will be supported in 2021. I also know there are many supporting policies but almost all people do not have access. And it is the responsibility of the government, it has to support the people more or less in order to have a peaceful life in the epidemic."
Dang Quang promised himself, and also wishes other young people in Vietnam would be more positive and optimistic in 2021. Each voice and every job for the community, though very small, will contribute a share for society to be better.
We contacted blogger Pham Minh Vu. This young person in 2020 has many posts on his personal Facebook account and is well received by the online community.
Hope the spirit of young people is spread
Working and chatting with RFA on the last day of 2020, blogger Pham Minh Vu says he is inspired by young people imprisoned behind bars in Vietnam and he finds himself the duty to continue the work of those brave young men.
"Referring to names like Nguyen Viet Dung, Phan Kim Khanh, Huynh Duc Thanh Binh, and Nguyen Van Hoa, etc., it is true that Vietnam has examples who dare to commit, sacrifice their youth to have a voice in the face of social injustice in order to contribute to alleviating the injustices that are happening every day. I personally hope that young people of the same age who ignore their own selfishness, indifferent to the country, will be a little more interested. Maybe in my ability, when I saw injustice, I would speak up. Although that hasn't changed much, to see that the spirit of Vietnamese youth still remains."
For bogger Pham Minh Vu, the spirit of the young people that he mentioned is the zeal for society, for the country of Vietnam is a better and brighter country.
Pham Minh Vu believes that the spirit of Hong Kong youth and Thai students will spread to young Vietnamese, recognizing responsibility for the nation and the future. And, blogger Pham Minh Vu believes that in the new year of 2021 there will be more young people to step up and speak up to ask for the universal values ​​of humanity to be realized in the homeland of Vietnam. That is, freedom of speech, freedom of the media and human rights must be respected.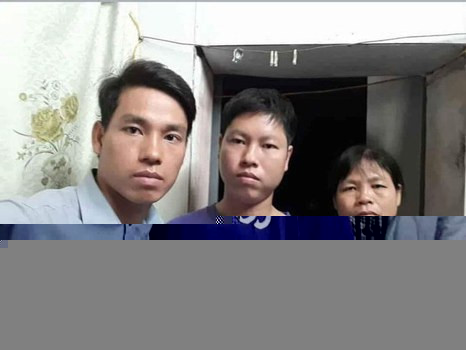 Agreeing with blogger Pham Minh Vu, young activist Do Nam Trung expressed his wish that 2021 will be a year with many positive changes in politics and economy, and Vietnamese society. And, this transformation will take place on the condition that people dare to step through fear to raise their voice and demand that the Vietnamese Government fulfills its duties as a government serving the country and the people.
The mention of "duty" and "service" reminds us of young friend Tran Hoang Phuc who used to be a law student and an enthusiastic member of the Young Southeast Asian Leaders Initiative (YSEALI) group, founded in 2013 by former US President Barrack Obama. On his own bright future path, young Tran Hoang Phuc was sentenced to 6 years in prison by a Vietnamese court in late January 2018 and 4 years under house arrest because he wants to fulfill the responsibility of the social community. During his years in prison, Tran Hoang Phuc continued to work for the community.
Student Tran Hoang Phuc's mother, teacher Huynh Thi Ut, on the evening of December 31, confided in RFA:
"Phuc himself is a blessing to help people come from love, sharing, and hard work. Phuc brought his love to everyone. He supports ethnic prisoners with seeds or Bible books. I think that the inmates also feel being loved, so I heard that there are also some people who share their difficulties with each other."
In the moment of recuperating with the old year 2020, celebrating the new year 2021, teacher Huynh Thi Ut relieved not only of her beloved son but also many young Vietnamese in the same situation. Phuc is also just for their ideal of life for the country and the community.
Tran Hoang Phuc's mother shared that all fathers and mothers of young prisoners of conscience in Vietnam are proud and accompanying their children's ideas. It is because of the work of these young people thinking for everyone and for the better country of Vietnam.
Radio RFA noted that in 2020, the list of prisoners of conscience in Vietnam enrolled two more activists Trinh Ba Phuong and Trinh Ba Tu. They sacrificed their time and family happiness to accompany the villagers in Dong Tam village. Now, they welcome the new year 2021 in prison but do not know which shirt will be for them. But, through sharing with RFA before being arrested with their mother, Can Thi Theu in June, Trinh Ba Phuong and Trinh Ba Tu both affirmed that they were fighting with the desire to at least a truly happy new year, no more parting scenes, loss of heartache like Dong Tam happened in the days near Tet.
Teacher Huynh Thi Ut told RFA on the eve of the new year 2021 that the beliefs and hopes of Vietnamese young prisoners of conscience, including Tran Hoang Phuc, will come true in the near future: Vietnam will definitely innovate in the near future."
Thoibao.de (Translated)
Source: https://www.rfa.org/vietnamese/in_depth/what-vietnamese-youth-hope-for-in-2021-12312020143134.html