Observing the situation against the Covid-19 pandemic in the past few days in the world, we can see that all countries have to adjust or even drastically change their strategies and tactics.
All national and institutional pride must gradually make way for the principle of medicine to save people and protect public health.
Let's take a look at the actions of different countries over the past week.
Firstly, the European countries are drastically changing: Germany from being very confident in the mass testing strategy and only blocking international traffic but relaxing inside to protect the economy has gradually moved to local isolations. The culture of disregard for masks in Germany has also been less conservative after Austria ordered wearing masks in supermarkets and hospitals.
The German newspaper posted a picture of Angela Merkel wearing a mask as the signal "German tanks turned to attack."
Sweden was used to be very comfortable for people to travel because of their belief of "Scandinavian discipline" but it was stunned with a death toll of 105, as of March 29. The government had to close the Oresund bridge connecting to Denmark, with a traffic of 70,000 people a day.
Needless to say, people also limited travel: the Stockholm metro network decreased by 50%.
However, the country still accepts open shops, restricting the gathering to 50 people, which is too large compared to the ban of gathering more than 10 people in neighboring Denmark.
In short, countries that are proud of their technological and cultural strengths have come together in choosing anti-pandemic steps.
Particularly for Vietnam, a strong strategy to localize the pandemic, immediately isolate positive cases and limit "entry" across the border will be "dramatic" about its effectiveness.
When the Covid-19 spreads to the community, it was inevitable for a country of 95 million people, with a long border swith neighboring countries, with outbreaks, and busy air traffic with Europe and North America – new and serious pandemic areas, the strategy of applying "blocking, finding and quarantining people infected with virus" will not help Vietnam to hold out for long.
In the end, the Vietnamese government has acknowledged that situation – not everyone's fault – although the Bach Mai Hospital case may be a manifestation of the medical system's fault – and the latest European-like measures: social isolation and restrictions on domestic traffic.
When a nation of nearly 100 million people entered the partial blockade, other problems immediately arose. The first is the transparency of the isolation command, the communication spacing.
The Vietnamese government office has just issued that order, and has a different interpretation.
Minister, Chairman of the Government Office, Mr. Mai Tien Dung said: "The implementation of 'social isolation' is not a blockade and completely ban people from traveling. The production facilities themselves decide on the production activities and take self-responsibility."
This understanding of isolation is completely different from what is being applied in Europe. It is not clear whether the Vietnamese government is afraid of bad economic impact, or afraid of being considered harsh, but has such half-hearted instructions and even apprehension of the word "blockade"?
Previously, the Vietnamese government did not want to use the phrase "border closure" to handle tens of thousands of arrivals and to this day it also banned flights, stopped entry from Cambodia and Laos.
In democracies like the UK, there has been public discussion of the authoritarianism of anti-pandemic orders, restricting personal freedom.
But with the principle of "public health first," the government of Boris Johnson, after a period of wobbly, is now strong, clear and decisive.
The slogan for the entire people "Stay home" and "working from home" must be fully compliant.
Working from home, no one goes to the street, to agencies, offices, businesses unless the nature of the job makes you unable to do from home. People only go to the road once a day to exercise, buy food.
Next is the e-government and online work in Vietnam. Because the level of development is less than that of Western Europe and North America, Vietnam will have difficulty in applying "working from home." There will be many civil servants, public and private businesses can not work from home because it is difficult to connect, because "e-government" has not been realized, especially with provinces and districts.
The Ministry of Information and Communications of Vietnam has set a goal: "Strive to reach the rate of 100% of ministries, branches and localities with integrated data-sharing platforms at ministerial and provincial levels; 100% of state agencies publicize the satisfaction of people using online public services; 30% online public administrative service at level 4. "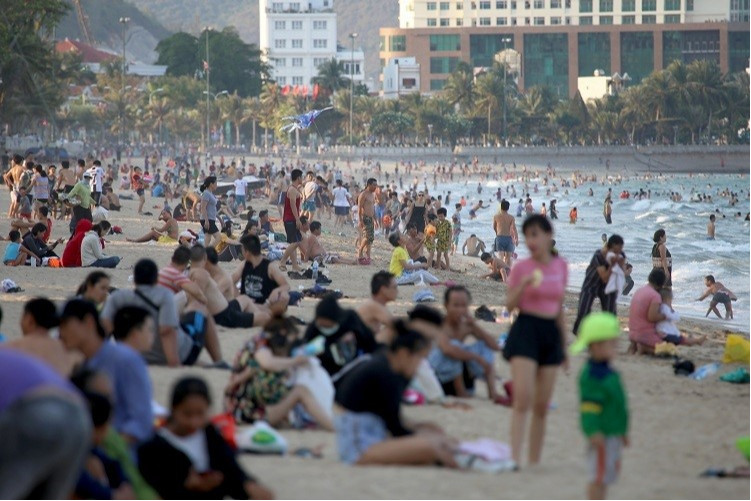 Assuming some regions of Vietnam have reached an online public administrative service rate of 30% before 2025, 70% are still "out of coverage."
One thing that can be done right away is that the Vietnamese government needs to reduce the prices of telephone and Internet data services.
In the UK, yesterday, Minister of Digital Technology Oliver Dowden issued an order immediately to request all five telecommunications giants BT, Virgin Media, Sky, Talktalk and O2 to increase the frequency band, pushing the speed of data transmission to the medical industry. In addition, there is no "congestion" in online learning, government agencies, businesses and people's activities, including online learning from students' homes.
These companies are also forced to suffer financially and not to increase prices on different service packages, from standard to premium packages as before with the British people.
In short, the transmission line must be adequate, regular and numerous, the price does not change, as the contrary is considered "violating the order to save lives".
While waiting for "e-government," a similar decision in Vietnam will immediately help people and businesses to work from home and online, practically without causing much difficulty for telecom companies that have long enjoyed this.
Comparing the situation in Europe and Vietnam – the isolation and communication distance will force the Vietnamese people to change their over-confident thinking about masks and block borders, but rather disregard the gathering of people.
Mr. Le Trung Tinh in the UK wrote on Facebook: "It is said that in Vietnam it is still possible to gather under 30 people in restaurants or exercise … With the current request to stay at home completely in Europe, I strongly advise that Vietnam should not go out unless for food and medicine. The situation is very very serious. If Vietnam's infection is still low, try to continue so. Although ban on gathering will affect the economy, but it will be a better choise since the outbreak may spread across the nation for short time."
Photographs of the isolated areas still see many sports groups working together in team sports such as soccer. In a quarantine area that is located close to each other, or bunk beds, how to get the "social distancing" of 2 meters?
Everyone knows that wearing a mask and washing your hands will help reduce the spread, but not a 100% guarantee you won't get the virus. Since you still use public transport and go to shops and offices, the risk of infection is still high.
Many offices and offices share the same toilet, meeting room and dining room as an ideal environment for the spread of Covid-19.
The case of Bach Mai Hospital and Truong Sinh boiling water supply company is proof that this is also true in Vietnam. Vietnam's health has a reputation for public service, but patient care, including food and sanitation, has long been taken care of by the family, making the number of people hospitalized many times more than in other countries.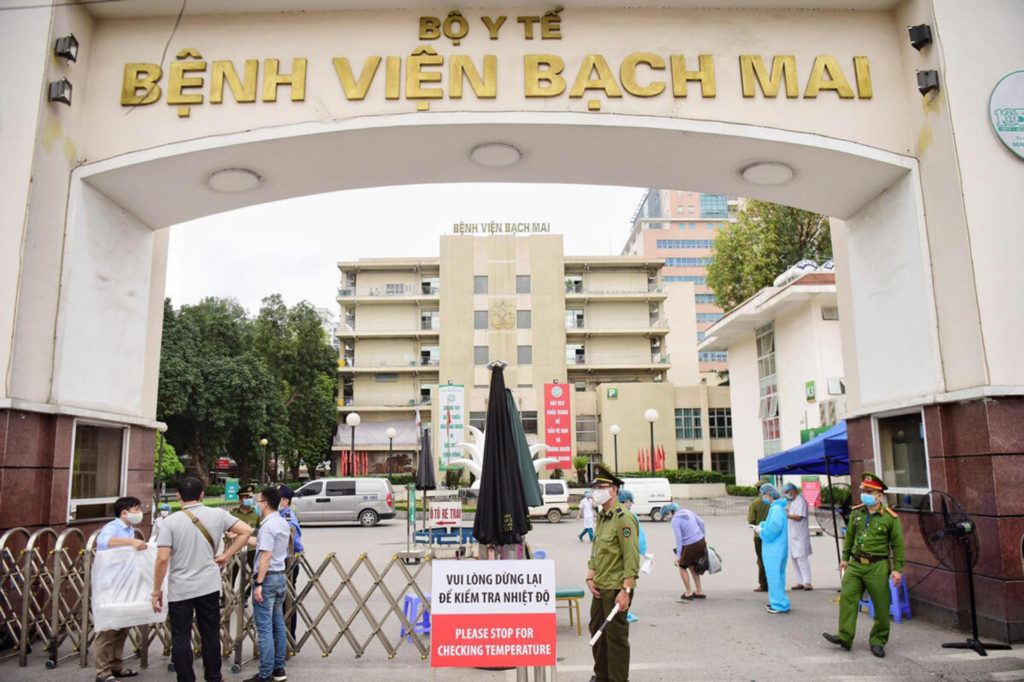 In the UK, the family of the patient has never been brought in, and visiting time is very limited, because in principle the hospital environment is a place where people should not be present with exception of medical workers.
The UK government makes it clear that people need to isolate themselves when you:
Waiting for Covid-19 test results
Close contact with a person confirmed to be infected with Covid-19
Just returned from places infected with Covid-19
There are signs of infection, such as a continuous cough or a fever of 37 degrees or higher
Close contact is simply defined as being close to a person who has been infected with Covid-19 for 15 minutes, with a distance of 2 meters back, or across from that person. Isolation means you do not go to work, school, or other public places, and avoid using public transport or taxis. You also have to be in a separate room, separate from other family members, trying to use the bathroom and toilet at different times than they.
Vietnam is also about to resemble Europe with an isolation order, which will even require urban blockade and will have to reduce the pride of its initial achievements to keep pace with the rest of the world in community health protection. Because as Pope Francis says: "we are all in the same boat going through a disease storm."
Trung Nam from Da nang – Thoibao.de (Translated)