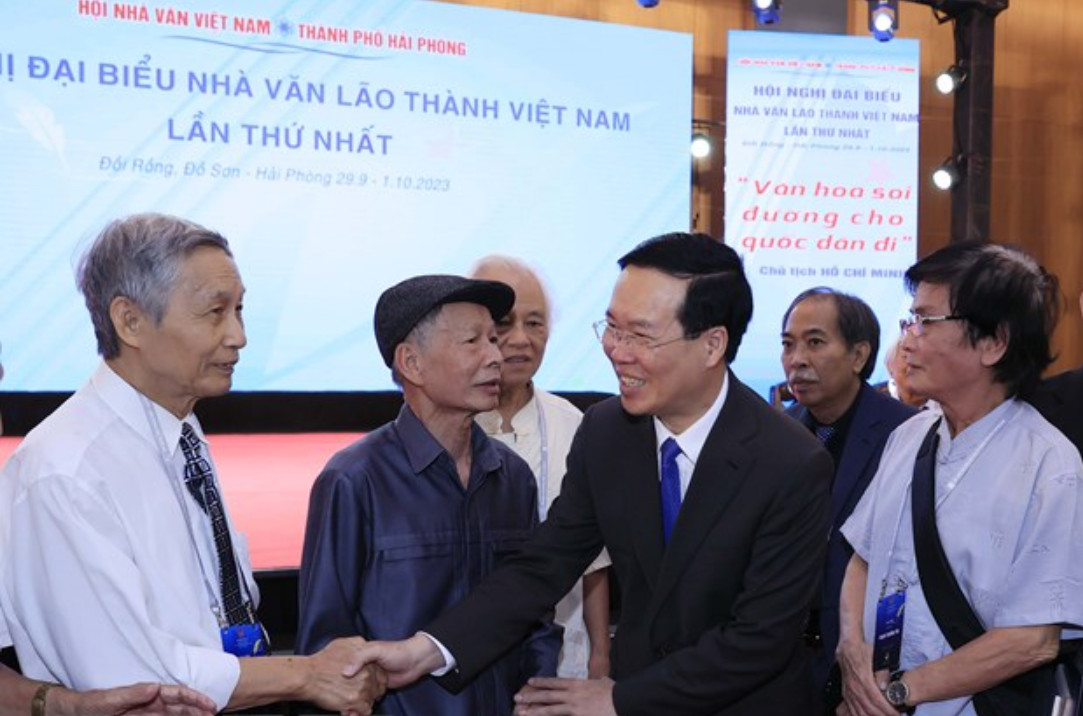 On social networks, many opinions are skeptical about the honesty and feasibility of President Vo Van Thuong's statement, when he called on Vietnamese writers to be honest and brave in fighting against bad things in Vietnam today.
According to Tuoi Tre newspaper, during the first conference of delegates of Vietnamese veteran writers, held in Hai Phong on September 30, President Vo Van Thuong gave a speech talking about social shortcomings, such as the insensitivity, selfishness, consumerism, greed, deceit and cruelty; corruption, negativity, destruction of nature, destruction of culture and going against the trend of the times.
Mr. Thuong affirmed that the people and the country need the voice of human love, honesty, and courage from writers in the struggle with the above "enemies."
Public opinion recognizes and evaluates President Vo Van Thuong's statement as close to current social reality. Mr. Thuong's call for the people and the country to need voices of human love and honesty is completely correct.
There are opinions that the President – former Head of the Central Commission for Propaganda and Education – has forgotten, or borrowed the opportunity to indirectly criticize the comprehensive leadership of the Communist Party of Vietnam, and accuse the Party of having to responsible for the evils mentioned above.
But most opinions doubt that Mr. Vo Van Thuong's call for people to courageously speak truthfully is a plot to trap and arrest all those who dare to speak up against social injustice.
A social activist from Saigon speaking to Thoibao.de, on the condition of anonymity for safety, said: "Speaking up, all the biggest corruption cases are carried out by senior leaders, and they take advantage of their position and prestige within the Party system. And those who speak up or fight against social negativity are immediately condemned and labeled by the police as 'reactionaries' with plots to overthrow the regime."
Through his speech, public opinion said that President Vo Van Thuong appeared closer to real life than General Secretary Nguyen Phu Trong.
Vo Van Thuong understands and knows very well that, due to the one-party political system, the human rights of the Vietnamese people in general and artists and writers in particular have been deprived of their human rights. Any critical voice that is unfavorable to the government is immediately suppressed and charged with the crime of "anti-state propaganda."
But there are still optimistic opinions that believe that these are signs that there will be a change in the issue of freedom of speech.
Does Chairman Vo Van Thuong's statement have anything to do with US President Joe Biden's visit to Hanoi last month?
When Vietnam and the United States decided to bring Vietnam-US relations to the highest level of comprehensive strategic partnership. It is highly likely that this will influence many of Vietnam's policies in the near future.
Perhaps, Vo Van Thuong received orders to give a signal to probe within the Party as well as public opinion, about the trend of wanting dialogue, democratization, and expanding democracy within the Party. This is encountering fierce resistance from the conservative forces within the Party who still have the upper hand.
Does that have anything to do with the latest speculations of knowledgeable people before the 8th Plenum? Accordingly, Minister of Public Security To Lam will succeed Mr. Nguyen Phu Trong as General Secretary at the 14th Congress, not Vo Van Thuong as previously rumored. Is that the reason why Vo Van Thuong suddenly "changed his voice."
In fact, the Communist Party of Vietnam, with its tradition of "saying one thing, doing another," has been stifling citizens' freedom of expression and speech every day, every hour, leading to the destruction of the country.
Please remember that according to statistics from international human rights protection organizations, Vietnam currently has at least 65 people detained for "propaganda against the state" and at least 40 people detained for "abusing freedom and democracy" because of posts on social networks when speaking out about the current situation of the country./.
Thoibao.de (Translated)