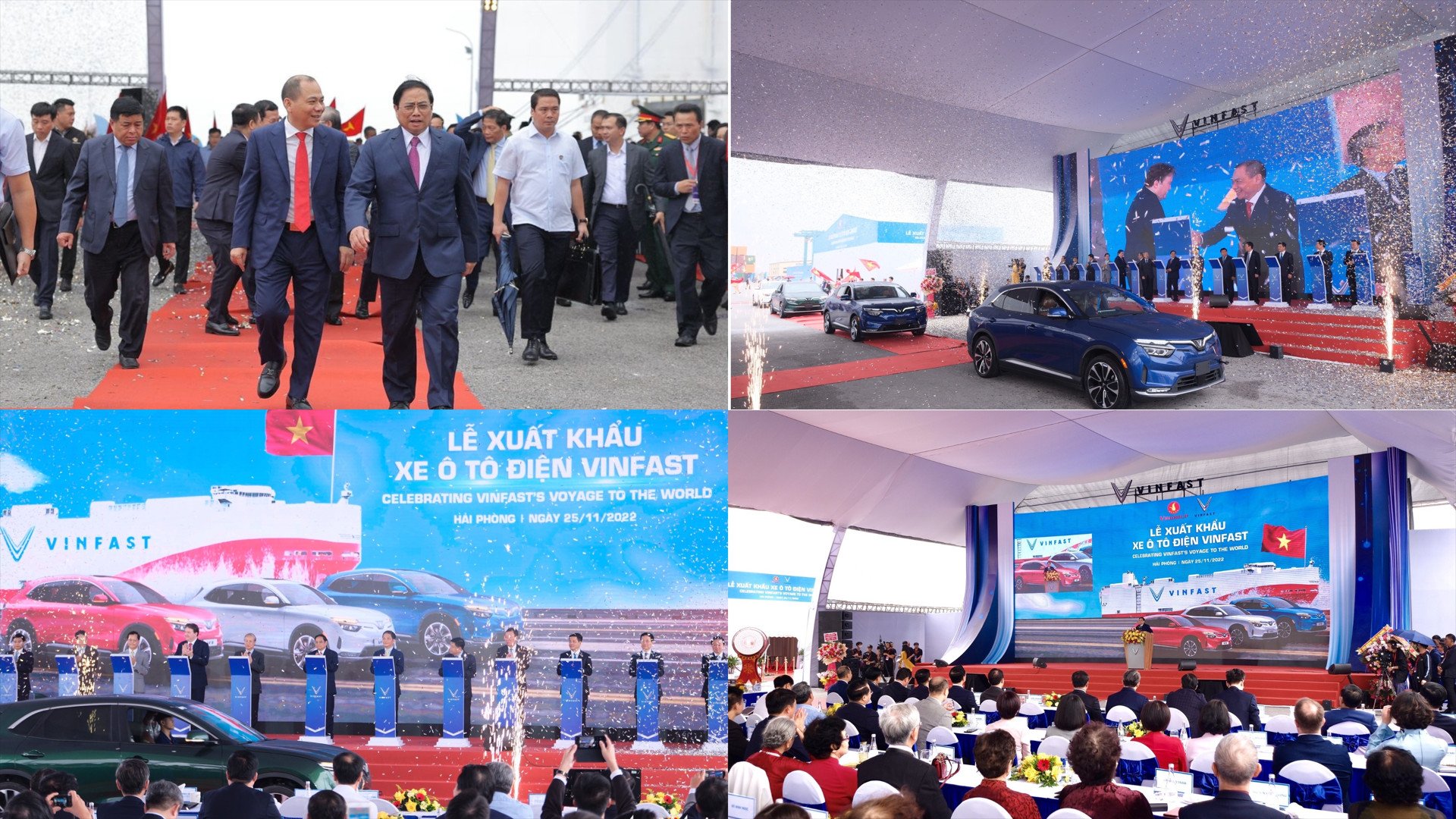 On November 25, VinFast held a grand ceremony to export the first 999 VF8 electric cars to the US. The ceremony was held at MPC Port in Hai An district, Hai Phong City. A large number of government officials attended, including Prime Minister Pham Minh Chinh, many ministers, leaders of central sectors and leaders of Hai Phong city. The US Ambassador to Vietnam – Marc Knapper – was also present.
At this ceremony, billionaire Pham Nhat Vuong, the boss of VinGroup, also appeared for the first time after a long absence which led to a lot of speculation from netizens. The appearance of Mr. Vuong next to Prime Minister Pham Minh Chinh has denied all rumors. The two men sat close together and walked together, chatting quite intimately during the ceremony. Maybe Mr. Vuong didn't run away, wasn't wanted by police and wasn't banned from leaving the country as rumored…or maybe there was an agreement between Vin and the Government, so Mr. Vuong could appear publicly again? And this ceremony is the way that Vin created for Mr. Vuong to appear meaningfully??? Only insiders know the inside story, and netizens just keep making assumptions if they find it strange.
Looking at the invited guests, one can imagine Vin's position, when in addition to the Prime Minister, there were many ministers attending. PM Chinh delivered a speech praising VinFast's success as "the latest technology, the highest automation, the smartest, the most different approach to customers…" although this work still needs time to be verified. Mr. Chinh thinks that VinFast has too many of the best, it's too great… maybe it should be, it is necessary to suggest Mr. Vuong to give Mr. Chinh a VF8, instead of letting Mr. Chinh use a petrol car.
The US Ambassador thanked VinFast for building a factory in the US, creating jobs for thousands of US workers. Hopefully, VinFast will satisfy American consumers and have a better American customer care program than Vietnamese customers. Otherwise, the Ambassador will be very shy later. And American land is not like Vietnam, until then, I don't know if Mr. Vuong can hire a team in camouflage clothes to guard the door to beat customers or not. Until then, I don't know how to say "I'm so proud, Vietnam!" I'm so worried!!!
At the end of the export ceremony, the smooth and splendid VF8 fleet… boarded the cargo ship one by one. Expected shipping time is 20 days and the end of December will arrive in the US, the destination is the port of California. VinFast cars are transported by the Silver Queen ship with the flag of Panama, with the logo and word VinFast on the body. By now everyone understands, this VinFast inscription is just an advertisement for the goods that the ship transports, not the name of the ship's owner. It is known that the capacity of this Silver Queen ship is 4,500 cars, but VinFast only carried 999 cars on the first trip. While the cost of transportation is up to $10 million per trip and the cost of chartering and repairing ships is up to $30 million. It is a capital loss problem but Vin still does it, why? Because it needs to polish its name at a difficult time? Or because it needs to show off for the boss to return to the catwalk after so many scandals??? And why choose the number 999, because it's "beautiful," it brings good luck, helps the owner "avoid badness"?
After the US, VinFast will continue to export VF8 to Canada and Europe. The company announced orders in the US of 25,000 units and up to 65,000 orders worldwide for the VF8 and VF9 models. These very "terrible" numbers and a grand ceremony, are they aimed at helping Vin regain his image, to show off, to trap other potential clients?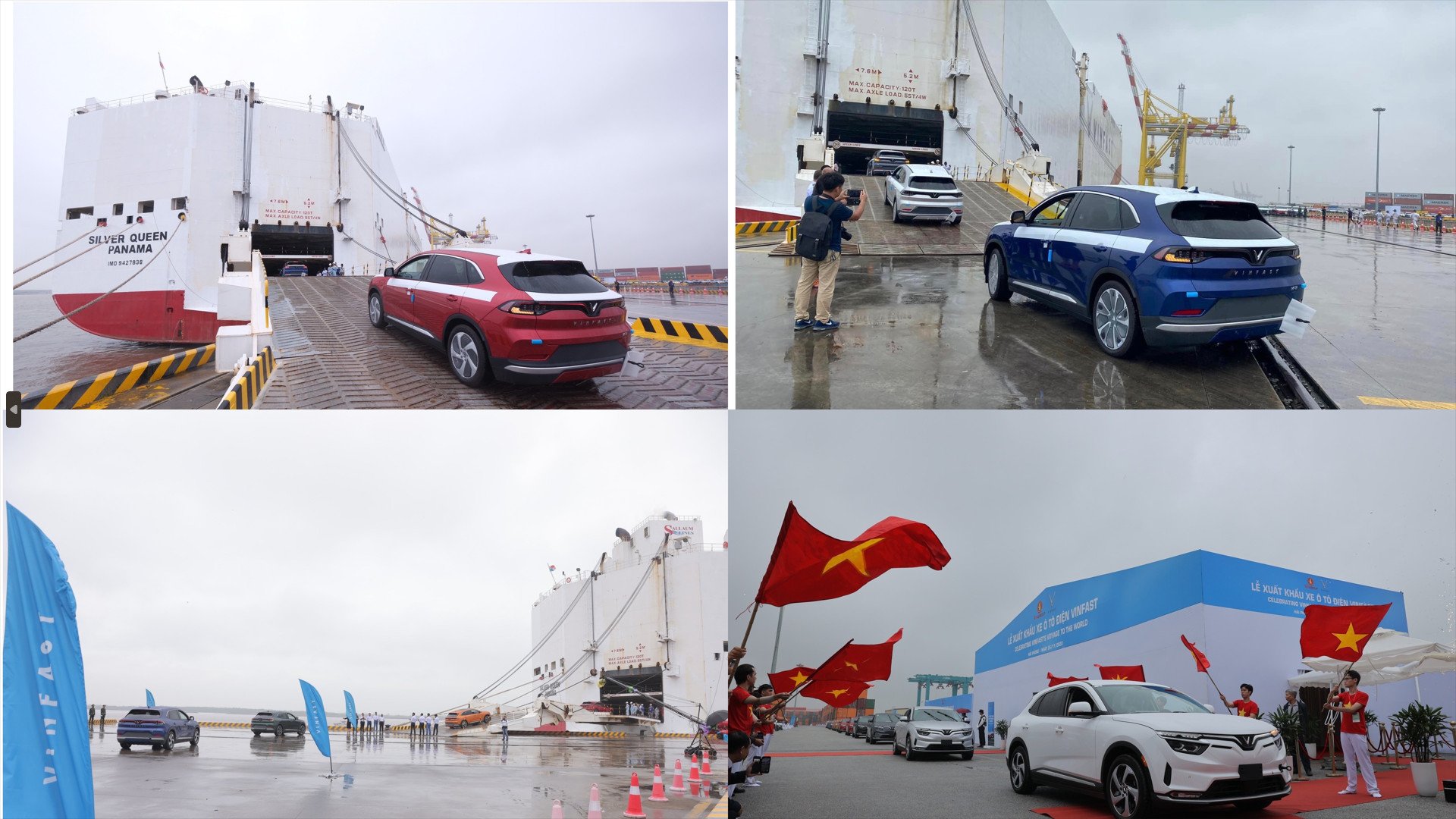 In Vietnam, VF8 cars have been delivered to customers since September, but the company does not announce the delivered quantity. In the group "VinFast electric cars – Association of VinFast electric car riders," Nickname Phan Xuan Thang reflected: "I have paid a deposit to buy a VinFast e34 since July 2021. But so far have not received the car, if anyone knows any information, please let me know, because I also want to have a car before the Lunar New Year 2023 to go."
No one replied to Mr. Thang, no one commented and only 1 like for his status, although everyone knows that the admin of this group is an employee of VinFast. The strange thing is, if Mr. Thang bought a car, he should have contacted the car dealer, car salesman, customer care staff, but why asked on social networks.
VinFast was founded in 2017 and has always caused controversy since then. Those who buy VinFast cars, are either employees of Vin, or lovers of Vin. But the feedback after buying the car is quite old, both in terms of car quality and in how VinFast treats customers.
Thoibao.de (Translated)