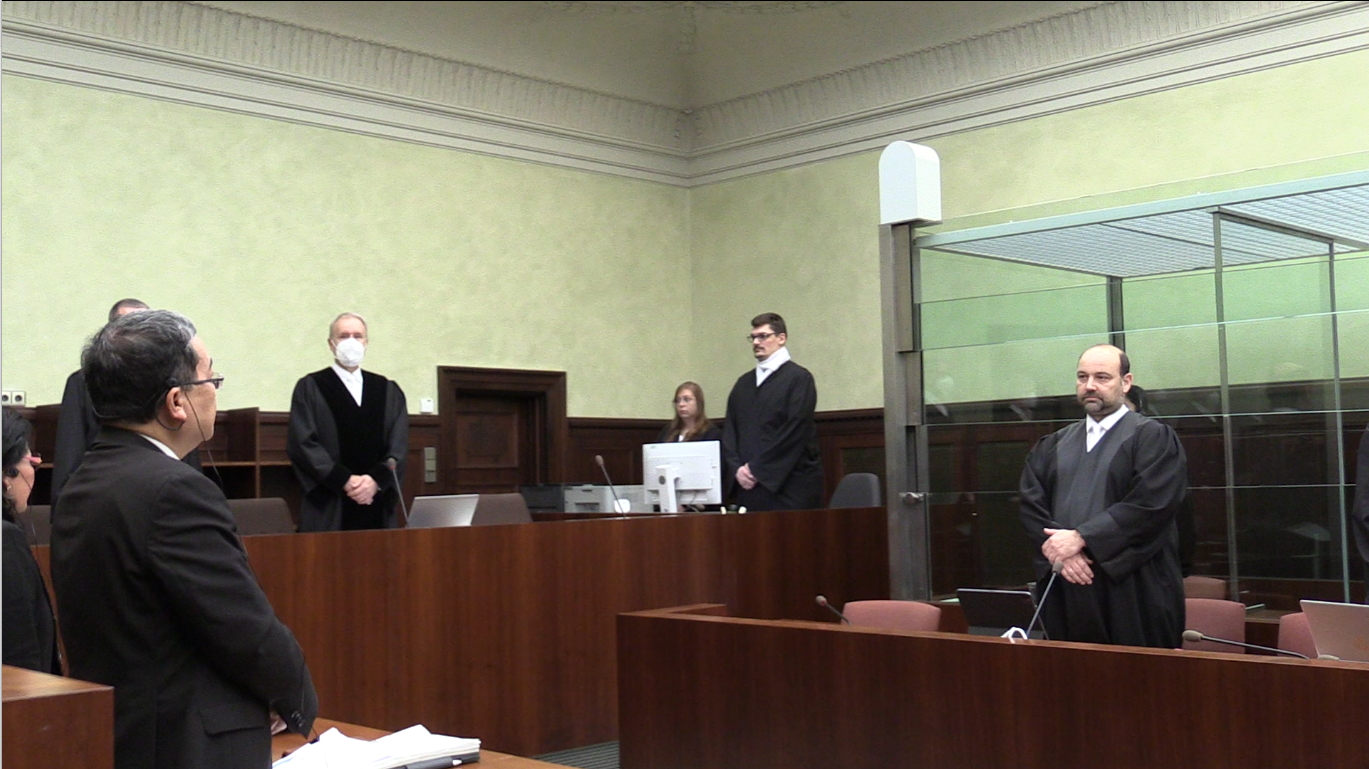 The Berlin High Court, on Wednesday, November 2, began the trial of the second suspect in the kidnapping case of Trinh Xuan Thanh. This person is alleged to have assisted and abetted the deprivation of liberty and acted as an agent.
The defendant is Mr. Le Anh Tu, 32 years old, living in Prague, Czech Republic at the time of the crime in 2017.
Tu was arrested and tried five years after the case happened because he went back to Vietnam to hide right after the case happened. When he returned to Prague in June this year, Mr. Tu was immediately arrested and extradited to Germany.
What does the indictment say?
Mr. Le Trung Khoa, a journalist present at the trial, said that this trial will take place for many days, starting from November 2, 2022, through seven days of trial, expected to end on November 30, 2022.
Khoa said, according to the indictment, two weeks before the abduction of Trinh Xuan Thanh in Berlin in July 2017, Mr. Le Anh Tu, along with a number of other suspects, invited Trinh Xuan Thanh's cousin, lives in Poland, to Prague to learn about Mr. Trinh Xuan Thanh's whereabouts and living habits. Mr. Tu always followed Mr. Trinh Xuan Thanh's activities in the following days.
Mr. Tu is said to have been sitting in the car that committed the crime on July 23, 2017, helping to force Mr. Thanh and his girlfriend into a seven-seat car and then run to the Vietnamese Embassy in Berlin. Mr. Khoa said:
"The indictment makes it very clear that this man had previously gone to Germany to spy on characters like Ms. Phuong or Trinh Xuan Thanh. Finally, on July 23, at around 10 am, drived the car carrying the Vietnamese secret service who carried out kidnapping Mr. Trinh Xuan Khanh right in Berlin."
In addition, Mr. Tu also played a role in transporting Mr. Thanh out of the Schengen area. According to the prosecution, Mr. Tu and eight other people then drove Trinh Xuan Thanh from Brno, Czech Republic to Bratislava, Slovakia. From the capital of Slovakia, Mr. Thanh was drugged and put on a Slovak government plane to continue to Moscow, the capital of Russia. A few days later, Trinh Xuan Thanh was brought back to Hanoi.
Mr. Khoa also knew that Mr. Le Anh Tu had a history of illegal weapons possession:
"Mr. Le Anh Tu was checked in 2016 by the German police in the Munich area and caught him carrying an undocumented weapon, and he was also fined for the crime of using and possessing an illegal weapon without papers."
Marina Mai, a German journalist who closely follows the case, told RFA via messaging app, that the evidence of the Federal Prosecutor's Office is overwhelming and convincing. Therefore, the court made an agreement that if Mr. Le Anh Tu pleaded guilty under the indictment, his sentence would be reduced without having to have more trials later. The expected sentence is from four years, six months to five years in prison.
Mr. Tu and his lawyer will make a decision on whether to plead guilty or not at the next trial. However, in this trial, Mr. Tu insisted that he was not involved in the kidnapping of Trinh Xuan Thanh and his lover. Ms. Marina said:
"In the event that the confession deviates from the indictment, the Federal Prosecutor's Office will not accept this agreement. So it may take weeks or months to review the evidence."
On July 25, 2018, another person accused of assisting the Vietnamese secret service to kidnap former oil industry leader Trinh Xuan Thanh was sentenced to three years and ten months in prison by a German court. That is Mr. Nguyen Hai Long. Earlier on July 24, the German Federal Prosecutor proposed a four-year prison sentence for defendant Nguyen Hai Long. He was charged with two counts of assisting in the kidnapping of Trinh Xuan Thanh and spying in Germany.
Journalist Le Trung Khoa said at the time that Mr. Nguyen Hai Long's lawyer had suggested a sentence of three years and six months after considering details such as the defendant's confession and family conditions with a wife and children in the Czech Republic and an elderly mother in Vietnam.
On July 17, defendant Nguyen Hai Long suddenly pleaded guilty in court to assisting the Vietnamese secret service in kidnapping Mr. Trinh Xuan Thanh; Although the defendant has always insisted that he did not know anything about the kidnapping.
Defendant Nguyen Hai Long lives in the Czech Republic and has a shop specializing in money exchange and money transfer services in Sapa market. According to the investigation of the German police, Mr. Nguyen Hai Long hired a car for the Vietnamese secret service to transport Trinh Xuan Thanh, who was kidnapped in Berlin on July 23, 2017.
Signs Trinh Xuan Thanh is about to go to Germany!?
The German newspaper Taz network, when reporting on this trial, had an update on the current situation of Mr. Trinh Xuan Thanh. Accordingly, Mr. Trinh Xuan Thanh was finally allowed to meet representatives of the German Embassy in Vietnam, ​​after more than five years in prison. The German Federal Ministry of Foreign Affairs over the years has always tried to visit Mr. Thanh, but the Vietnamese side always refused.
According to the same newspaper, it is not clear whether the embassy visit will mean Trinh Xuan Thanh will soon be able to go to Germany, where he has been granted refugee status. However, according to German practice, before a person is released from prison abroad, he will be visited by the Embassy's staff.
In addition, Foreign Minister Bui Thanh Son's meeting with his German counterpart, Annalena Baerbock in September is also an indication that Trinh Xuan Thanh's release from prison has at least been discussed by both sides, Taz newspaper acknowledged.
Mr. Trinh Xuan Thanh held the position of Vice Chairman of Hau Giang province, before being prosecuted for the crime of "Deliberately violating State regulations, causing serious consequences" in 2016. However, at that time he fled and applied for asylum in Germany.
In July 2017, Trinh Xuan Thanh was kidnapped by the Vietnamese secret service in Berlin, Germany. In August 2017, Mr. Thanh appeared on VTV, Vietnam National Television, saying that he had returned to Vietnam to turn himself in and "accept shortcomings and apologize", hoping to "enjoy the leniency of the Party, State and the law."
Both Mr. Trinh Xuan Thanh and the Vietnamese authorities have so far not mentioned how Mr. Thanh returned to Vietnam from Germany "to surrender" by any means.
Thoibao.de (Translated)