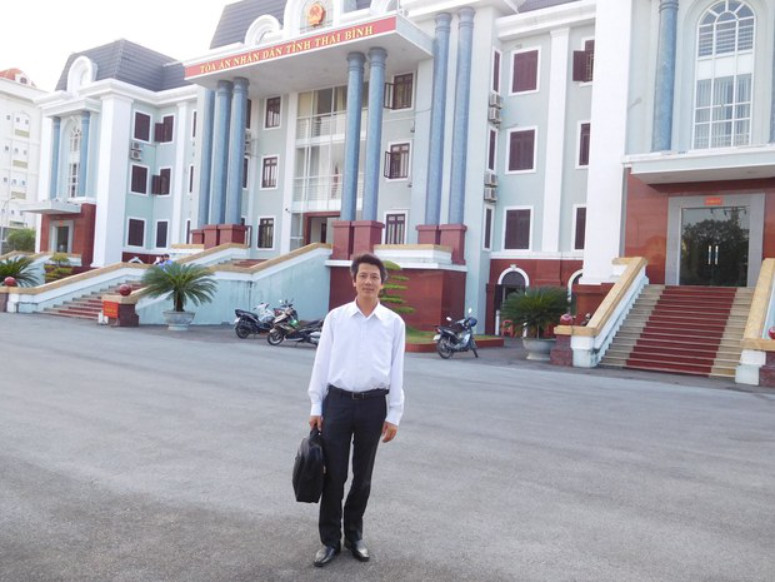 News from Tan Son Nhat International Airport said that, on the night of September 27, the family of lawyer Vo An Don, while preparing to go through customs to board a plane for a settlement in New York, USA, was suddenly detained by security personnel. The security side brought the family of lawyer Vo An Don into the waiting room and shortly after, informed them that Mr. Don was not allowed to leave Vietnam. When lawyer Don questioned the reason and asked for a record, the security side issued a record No. 1375/BBTHXC-TSN with "security reasons."
The incident happened quite quickly because, at more than 19 pm, Mr. Don also showed a picture of his family had finished packing and preparing to go through customs, with a message to friends "My family is about to board the plane to resettlement to the US, departing from Tan Son Nhat airport to New York state. Goodbye, brothers and sisters in the country and see you soon." The exit file was in the name of lawyer Vo An Don, so stopping Mr. Don also caused the whole family to remain together.
However, in the minutes of working with the customs police, it was stated that "everything ended at 21:49 on the same day." This shows that the police have monitored and prepared everything for the plan to prevent the settlement of Mr. Vo An Don's family, his wife, and three young children.
As with all cases of preventing exit from being very familiar with Vietnamese police, in the document confirming the refusal of Mr. Vo An Don's family to board Emirates flight EK393 at 23:55, only in short, it is based on Article 36 of Law 49/2019/QH14, which regulates cases of suspension of exit.
At 2 a.m. on September 28, Mr. Don sent a message to interested people via Facebook, "My family has been delayed leaving the country: After completing the procedures for consigning goods, when passing through the Tan Son Nhat airport security gate, my family was stopped by the border police from leaving the country for security reasons, at the request of the police of Phu Yen province. My family had to return home when Typhoon Noru was approaching."
Mr. Vo An Don's Facebook also posted a picture showing his three young children sleeping hard in the waiting room at the airport, while he was going to retrieve his luggage that was sent to Emirates airline, to return to Phu Yen.
According to the experience of cases like lawyer Vo An Don, even if the documents are complete and valid, the difficulties of Vietnamese security can often delay the departure from six months to two years.
Vo An Don (1977) is a familiar name in the law field, in just a short time of operation, he has left a special mark on daring to confront the police and the Vietnamese political system by the country's law. In 2014, he caused a stir among defense lawyers when he won the case of five police officers in Phu Yen who tortured and killed citizen Ngo Thanh Kieu. After that case, Vo An Don was loved by the people, but at the same time, according to news commentators, he also became the target of punishment plots for displaying images of police violence throughout the country.
In 2015, three fishing families in Binh Thuan, Tran Thi Lua, Tran Thi Thanh Loan, and Tran Thi Phuc, used their family's fishing boat to cross the border to Australia and were returned. Although there was a commitment between Australia and Vietnam that these people would not be punished when they returned to their homeland, as soon as they arrived in the country, the police sentenced them to many years in prison. Mr. Ho Trung Loi (Loan's husband) also alleged that during his detention he was beaten to the point of disabling one leg. Lawyer Vo An Don joins this case to protect the people in prison, and also to be their legal support, the next time they cross the border to Australia. Speaking to the Australian press, Ms. Lua affirmed that "it is better to be shot dead" than to be sent back to Vietnam again. As for the rest, they swore that if they were sent back to Vietnam to be imprisoned and tortured again, they would jump into the sea to die, not choosing to live with the communists. The incident of these people crossing the sea to seek freedom became an international scandal for the Australian government, causing them to agree not to deport these people back to Vietnam. By July 2022, the United Nations High Commissioner for Refugees has granted refugee status to these people, all three families totaling 20 people, to settle in Canada. This is also a long effort since 2016 by Australian professor Shira Sebban, to help these families. Ms. Shira Sebban is also the one who stands to receive support for the children in three families until their parents finish their sentences and are released from prison in Binh Thuan.
Vo An Don is the person who famously said, "In Vietnam, lawyers have to make compromises with authorities to settle cases, but cannot properly practice the law." He was also one of the first to publicly articulate the concept of "pocket sentence" to the outside media in political trials.
In 2018, Mr. Vo An Don had his license to practice law revoked. This coercive event led to more than 100 signatures of lawyers across the country demanding the return of the right to practice for Mr. Vo An Don, their petition was overturned.
Thoibao.de (Tổng hợp)