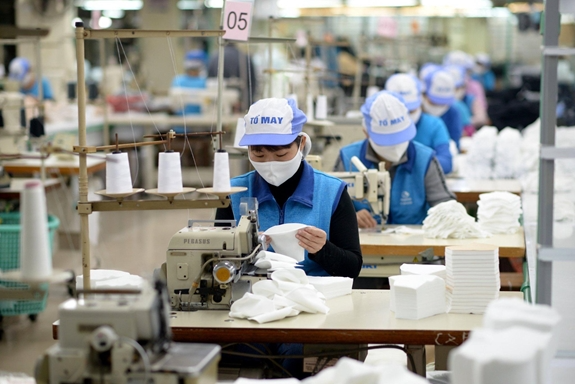 China's role in decline
China is the world's largest manufacturing hub, accounting for more than 28% of global output. The COVID-19 pandemic has caused countries around the world to rethink their views on global value chains and the risks involved. Many countries are rethinking their manufacturing practices, either by moving from China to home or to other low-cost countries. The case of Japan encouraging its companies to withdraw from China is a typical example.
As a result, some countries and transnational corporations are considering restructuring after the pandemic – such as transitioning to economic decoupling and focusing on self-developed value chains. This trend will lead to instability of the global value chain. In that context, China's role in the global value chain is facing two challenges: the trade war with the US and the COVID-19 pandemic. Ultimately, this trend will reduce China's global power in global value chains.
With the global value chain "repatriating" or moving to other low-cost countries in Asia, China's exports are likely to suffer in the long term. According to a study by the Tianjin School of Economics (China), global demand for China's capital goods and intermediate goods will suffer a significant negative impact. The initial impact of the outbreak caused exports to plummet and disrupted China's value chain. Research shows that China is mired in the middle and low end of the global value chain. The COVID-19 pandemic and the US-China trade war have caused the world's second-largest economy to face a division of the value chain.
The role of Vietnam is emerging
Vietnam has emerged as a "capital attraction" in the world. Since the US-China trade war intensified, many importers in the US, the European Union (EU) and Japan have turned to alternative supply chains. According to the US Bureau of Statistics, imports from Vietnam into the US increased by 33% in early 2019. Low labor costs have created a better incentive for US investors to move to Vietnam.
In recent years, many multinational companies have moved at least some of their supply chains out of China to places like Vietnam, a destination with cheaper labor costs and relatively good infrastructure.
Take for example the case of India. Previously, more than a third of India's imports were from China including electronic and telecommunications equipment, components and parts. As the COVID-19 pandemic disrupted China's supply chain, India gradually turned to other low-cost countries like Vietnam.
Demand to set up factories in southern Vietnam has skyrocketed, with occupancy rates in industrial parks in Binh Duong, an industrial province adjacent to Ho Chi Minh City, recorded as 97%.
In 2019, South Korea was the largest investor in Vietnam, accounting for nearly a fifth of the total $38 billion in new foreign direct investment in Vietnam, followed by Hong Kong, Japan, and China.
In May 2021, regional media reported that US technology giant Apple produced between 3 and 4 million AirPods in Vietnam in April – equivalent to about 30% in the whole quarter – a sign shows that one of the largest technology companies in the world is moving its supply chain outside of China. The reports also note that many of Apple's suppliers, including Foxconn and Pegatron and iPad maker Compal Electronics, are also expanding operations in Vietnam. Inventec, an AirPod assembler, is said to be building a factory in Vietnam.
Pegatron plans to invest $1 billion in Hai Phong after other suppliers to the Cupertino, California, company also relocated to Vietnam. Manufacturers are knocking on the doors of Vietnam's northern provinces and are pledging to invest billions of dollars to set up facilities. Among these is Samsung Electronics with about half of its smartphones manufactured in Vietnam.
The COVID-19 pandemic threatens
Many regional and international news agencies believe that the fourth outbreak in Vietnam is continuing to cause economic consequences as high-tech companies and large export factories are forced to suspend operations. in the context that many businesses cannot meet the "3 spot" requirement of the local government. Experts fear that this could have far-reaching effects on domestic consumption and global supply chains.
HCM City, the largest "epidemic center" in Vietnam today, has just started applying the "3 on the spot" regulation from July 15. In addition, enterprises are also required to implement the motto "1 road – 2 locations," that is, there is only one route to transport workers from the place of production to the place of residence of workers such as dormitories, hotels, and concentrated accommodation for workers. If businesses do not meet the above requirements, they will be forced to stop operating from 0:00 on July 15.
Faced with the above requirements, many leading manufacturing and technology enterprises in the city have announced their temporary closure because they cannot fulfill requests. PouYuen Vietnam Company (the world's largest footwear company specializing in manufacturing for brands such as Nike and Adidas, with more than 56,000 workers operating in HCM City said the company will close in within 10 days because it was not possible to fulfill the request for all employees to stay at the plant and do routine tests on them.
Saigon Hi-Tech Park, home to many leading technology companies such as Nidec Corporation of Japan (specializing in manufacturing motor products and supporting industrial products for high-tech engine manufacturing), or Intel Corporation of the US (with a chip assembly and testing plant), Samsung Electronics Corporation (specialized in the production of Korean home electronics) are also affected. Many factories in this technology park have had to stop working. Meanwhile, Intel is allowed to continue operating after implementing the "3 in place" rule and reducing some production activities.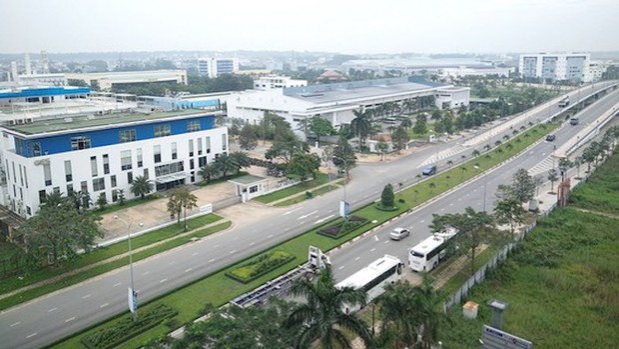 The problem is that all those requirements, businesses have to fulfill within 24 hours when the document is published. Although many businesses have to close, the number of infections has been increasing over the past few days. This shows that the anti-pandemic method of the city's government is not really effective.
Doctor Vo Xuan Son, a highly qualified and dedicated doctor wrote on his FB: "It is inevitable that the Vietnamese government must radically change its way of fighting the epidemic. To do so, Vietnam's leaders must abandon all arrogant thinking, puns or cover up their weaknesses, and follow the experience of other countries, taking into account the advantages that they have. What we have (which they didn't have before) is a vaccine. There is only radical change, in parallel with easing isolation, blockade, liberating for goods circulation, maintaining jobs and people's welfare, and at the same time protecting and maintaining activities. If the health system is operating to the maximum extent, then this pandemic can be overcome with the least damage."
Some experts say that technology exports contribute significantly to Vietnam's economy and Saigon Hi-Tech Park accounts for 30% of exports, so the closure of factories here is likely to cause serious shortages in the supply chain. This possibility is entirely possible when last week Vietnamese people witnessed chaos in grocery stores and supermarkets after the leader of HCM City tightened, even banned food delivery.
Financial market analyst at BIDV Securities in Hanoi, Mr. Nguyen Tien Duc, said that the forced factory closure could delay the global supply chain of goods and commercial materials in the third quarter of this yearand will slow down Vietnam's economic growth. Mr. Nguyen Tien Duc noted that the current infection waves in Vietnam are different from before with the infection rate at an unprecedented high and the next 15 days will be a "hinging" to see if HCM City will be able to see if there is a risk of infection. Can the city successfully contain this COVID-19 outbreak?
Doctor Vo Xuan Son commented: "Stories such as passports for testing, 'bread is not food,' and workers not being permitted to ride motorbikes or walk to work, etc. eflect the level of a part of the team. The party's effective team is being mobilized to fight the pandemic. Decisions to suspension of markets, plans like transporting vegetables by plane from North to South, reveal the true level of many high-ranking party and state officials."
It is the capacity of Vietnamese leaders that has led to the above "pathetic" anti-pandemic policies. And that is what leads to the risk that Vietnam will lose its growing important role in the world's supply chain.
Thoibao.de (Translated)
Source: https://www.rfa.org/vietnamese/news/blog/wrong-covid-19-policies-jeoperdize-vn-role-in-global-supply-chain-07222021124129.html