The story that hundreds, even thousands of houses built illegally, built wrongly designed are sometimes discovered by the authorities, although the process from applying for permits to completion is considered very strict.
Most recently, Tan Thinh Residential Area Project, invested by LDG Company, built 488 houses in Trang Bom district, Dong Nai province. Although there is no construction permit, this enterprise has leveled the ground, completed the technical infrastructure system, and completed the construction of the raw part for 198 villas and 290 adjacent houses. The representative of the Dong Nai province's Department of Natural Resources and Environment affirmed that the department has not yet received the land record of this 488 villa and townhouse project. The Department has not issued a certificate of land use rights.
Responding to the domestic media, Ms. Vu Thi Minh Chau – chairman of the People's Committee of Trang Bom district affirmed: "The local government has reported that the investor of the Tan Thinh residential area project is LDG Investment Joint Stock Company which violating but why did the text not arrive and there was no concrete handling proposal but let things happen so big. This is the reason we are asking to review the whole thing, clarify the responsibilities of each organization and individual."
As the owner of private real estate business, Mr. Duc Minh said the construction could not be so simple that hundreds of illegal houses were started so loudly that the local authorities did not come to check. He said:
"Speaking about the nearly 500 villas and civil houses in Doi commune built without permission now, it is clear that there is a shady here. It is obvious that the investor's works are wrong, but who is the one backing the project?"
The local government must be accountable first. People can assert without grounds that, shady here is to jointly spend money to build and sell. The local authorities cannot say that they did not know, hear, or see. This is a quirky chorus, a deceitful chorus of local government in construction management.
When ordinary people purchase bricks and sand and store them in front of their yard, some local state officials will come down the next day to ask. While several hundred houses were built without permission but said they did not know, it was clear that they were protected and shared."
In addition to Mr. Minh Duc, many concerned people also expressed their dissatisfaction when it was difficult to build only a pigpen and repair the toilet. When the people protested, they were accused of "resisting on-duty state officials," even prosecuted like the case of Mr. Nguyen Quang Khai in Cu Chi district or Mr. Nguyen Xuan Chien in Binh Chanh District in Ho Chi Minh City.
In 2017, Mr. Nguyen Quang Khai repaired the toilet behind his house. When the inspection team appeared for the second time, Mr. Khai was hot-tempered. Mr. Khai was sentenced to 18 months in prison for the charge of "resisting on-duty state officials."
In 2015, Mr. Nguyen Xuan Chien built a pigsty with an area of ​​about 30 square meters. When the construction took place, Mr. Chien was discovered by the commune authorities and requested to stop construction. Mr. Chien was then also fined for an administrative violation of VND2 million.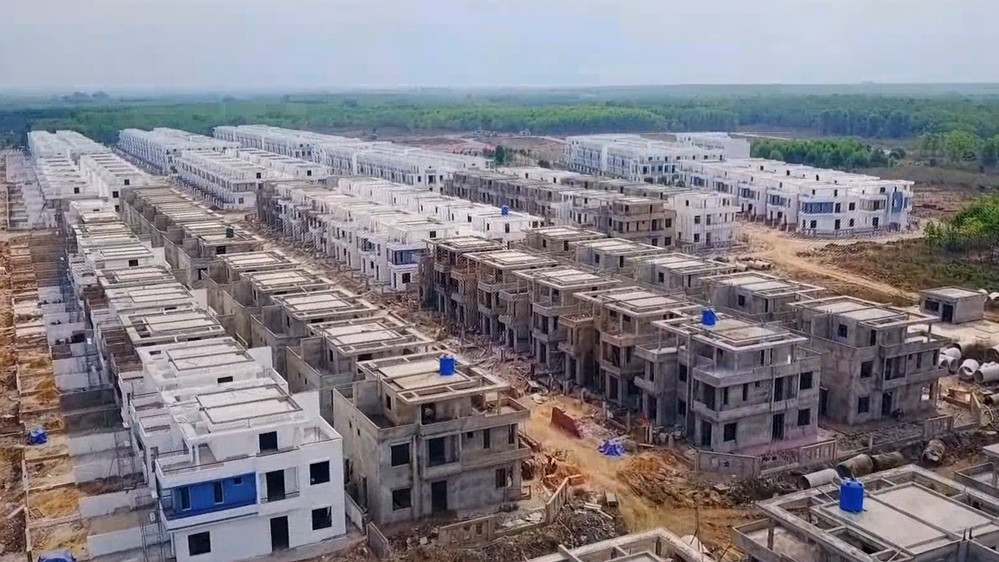 Mr. Minh Duc further explained that, before building a house, the investor must apply for a construction permit very much as prescribed. Once a construction permit is obtained, it must be reported to the local management agency of the ward or commune-level before construction. During the construction process, at least three times the construction inspection agency or urban management agency comes to check and compare the construction work's practice with the construction permit to see if it is correct. Therefore, it is impossible for an elephant to go through a needle hole.
In fact, there are many "pinhole elephants" in construction works across the country.
One of the infamous projects reported by the State media is the Muong Thanh Phu Quoc 5-star Hotel, invested by the Muong Thanh Group of giant businessman Le Thanh Than. According to the Government Inspectorate, this project has been completed and put into use but has not yet been granted a construction permit by the competent authority. Or the case of the 8B Le Truc building, Hanoi, built 16 meters higher than the construction permit. The floor area also exceeded 6,000 square meters compared to the permit.
Mr. Dang Hung Vo, former deputy minister of Natural Resources and Environment, calls such stories "corruption in real estate development." Such projects are quite popular in Hanoi, while in Ho Chi Minh City there are also but fewer. He explained about 488 illegally built houses discovered in Dong Nai:
"Just now, the Government Inspector did a comprehensive inspection of the Southeast region, including Binh Duong, Dong Nai, Ba Ria-Vung Tau, … many new types of projects were found not yet been authorized but have been built and sold. I call this 'ghost real estate.' That is, there is nothing that they have formed for sale. But only sold on paper but in fact nothing.
I think grassroots authorities saying they don't know is completely ridiculous. The commune-level government is a grassroots government. There are also local police in each neighborhood of that government. This guy knows every single person in the neighborhood. There is no reason to say that there is no new project or project in the proposed form that has already been built for sale, without the grassroots authority knowing.
There must be a phenomenon called interest groups between governments of a certain level and investors that have committed fraud. Certainly, there is bribery to cover the violation of the law of a certain project, of a certain investor."
According to Mr. Dang Hung Vo, "real estate" goods often appear in two forms: Real estate when purchased on paper but not real to pay the buyer, and Investors launched bogus projects for sale in the feverish real estate segments.
On December 22, 2020, the People's Committee of Dong Nai province issued a decision to sanction an administrative violation of VND540 million for LDG Investment Joint Stock Company on the act of building nearly 500 illegal houses in the Tan Thinh Residential project. In addition, this enterprise must carry out the procedures for land allocation or land lease as prescribed for the case of using land without the procedures for land allocation or land lease, and at the same time must pay back the illicit profits. The method obtained by implementing violations is nearly VND5.8 billion. The recovery period is within 60 days.
Professor Dang Hung Vo said that, due to the gap in criminal law, the current way of handling is usually a penalty for existence, because if the violation is broken, it is a waste of social resources, indirectly admitted the very great value of illicit profits of the project investor. In addition, the sale of unreal estate goods has not been handled under the criminal framework for cheating consumers.
Thoibao.de (Translated)
Source: https://www.rfa.org/vietnamese/in_depth/people-are-punished-to-place-businesses-build-illegally-no-one-knows-dt-12282020140931.html