A group of young people in Hanoi was summoned and investigated by the police on November 4, 2020, for dressing up as late President Ho Chi Minh on Halloween night. An activist in Hanoi stated that in Vietnam, it would be very risky and dangerous if someone dared to "touch" late leader Ho Chi Minh.
The law handles "insulting leaders" vaguely
This group of young people, including one who dressed up as Mr. Ho Chi Minh, walked the streets, joked around, and went into a bar. They filmed and posted on their personal Facebook page.
State media of Vietnam said that public opinion is very frustrating because this is an ethical violation, offending the Vietnamese leader.
In addition, the police investigation agency of the Hoan Kiem District Police, Hanoi City, said it would clarify and strictly handle the subjects that violate. But what crime is committed, no information is found.
Police also said the agency will conduct an extensive investigation to see if there is any organization behind inciting the incident so they can prosecute criminals.
The Xây Dựng Newspaper quoted lawyer Dang Van Cuong, Hanoi bar association, saying:
"Any act that shows a lack of standards, a lack of seriousness, and signs of offending a leader or national hero is a violation of the law.
In this case, the investigating agency needs to verify, clarify the motives and purposes of these objects to have a form of handling in accordance with the law.
In cases where there is evidence that the subjects commit acts with political purposes or with bad intentions, they may be subject to criminal prosecution."
Lawyer Minh Ha, who is studying for a master's degree in Public Policy in Europe, replied to RFA via mail on October 5 that this group of people may be dealt with according to Article 16 of the Law on Cyber ​​Security, which prohibits any behavior "Insulting the nation, national flag, national emblem, national anthem, great people, leaders, celebrities, national heroes, ect."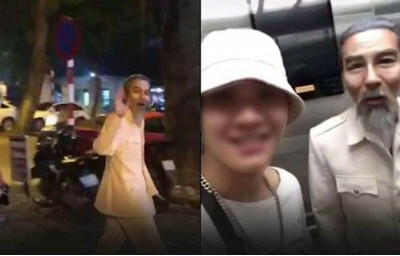 The young man posing as Ho Chi Minh on the streets of Hanoi on October 31, 2020 in Hanoi
However, according to Ms. Ha's point of view, this group of youth's makeup acts do not violate the law, the provisions on "insulting leaders" are also very vague:
"I honestly don't see any violations. The costume actor is full of Uncle Ho. Why is makeup going down the street to the bar is insulting? It is very emotional. There is no legal basis. There's not even a smear factor here.
Wait and see what the police will decide. I wonder what they think. Probably people whisper because everything related to Uncle Ho is a "forbidden zone."
On the fan page "Politics is very interesting," a page was created with the purpose of providing knowledge about civil and political rights to Vietnamese citizens, stating the view that if one wants to execute a penalty related to the forcing "Smell and insult a leader," the State of Vietnam needs to do the following:
"There is a specific list of full name, date of birth, hometown, curriculum vitae, character images from the ages, … of the people who are leaders in Vietnam.
There is a panel that evaluates citizens whose faces resemble leaders and a set of unique standards of characteristics of leaders, like how many percent of those standards will be considered identical to the leader.
And most importantly: There is a dedicated force searching for citizens across Vietnam who, by the above set of standards, are supposed to be leaders. The next job of this force is to monitor 24/7 the lives of these people to promptly detect words and behaviors that affect the leaders' image and then take measures to remind as well as a severe penalty under the law. "
In Vietnam, it is very dangerous to dare to "show attitude" to "leaders".
Mr. Nguyen Lan Thang, an activist in Hanoi was repeatedly attacked and harassed for being accused of mocking Ho Chi Minh's "leader".
In 2015, a group of people came to his own house to pour shrimp paste, splash red paint on Mr. Thang's house. Even going to the place where Mr. Thang's daughter is studying to provoke and attack.
Any act that shows a lack of standards, a lack of seriousness, and signs of offending a leader or a national hero is a violation of the law, said Dang Van Cuong
In 2018, 3 to 4 people claiming to be the Veterans Association brought loudspeakers to the front of the house, sang and called on Mr. Thang to go out to talk because they thought he was "counter-revolutionary" and "insulted Uncle Ho," and asked him to apologize publicly.
Speaking to RFA, Mr. Thang said that this is normal in a dictatorship:
"That of course has to happen in an anti-democratic country. Because in an anti-democratic country, people don't have the right to have any political opinion or attitude toward the so-called "national princes."
But that was just an excuse. Because when it touches "leader" it does all kinds of things.
And of course, I'm not to the point of being insulting, but just touching the topic is very easy to make people mad.
Then when people want to attack you, they do not directly attack it but rely on the story you talk about Mr. Ho to drive a force of public opinion shapers to questioning activists. It is actually a form of oppressive denunciation."
In September 2018, the Cai Rang District Court, Can Tho, sentenced Nguyen Hong Nguyen (38 years old) to 2 years in prison and Truong Dinh Khang (26 years) 1 year in prison, for "Abusing the democratic freedoms violating the interests of the State, the legitimate rights and interests of organizations and individuals."
According to the indictment, Nguyen and Khang regularly access the Internet to see articles, pictures, videos that defame the leaders, the party agencies, the state, and offend Late President Ho Chi Minh.
After that, Nguyen and Khang shared articles with content that seriously offended Ho Chi Minh's image and international proletariat leaders, offended the honor and dignity of many party leaders and state, effectively assisting the hostile forces, counteracting reactionary forces to eliminate the leadership of the Communist Party of Vietnam and overthrow the people's administration.
Thoibao.de (Translated)
Source: https://www.rfa.org/vietnamese/in_depth/in-vn-dressing-up-as-hochiminh-can-be-a-crime-11052020181438.html