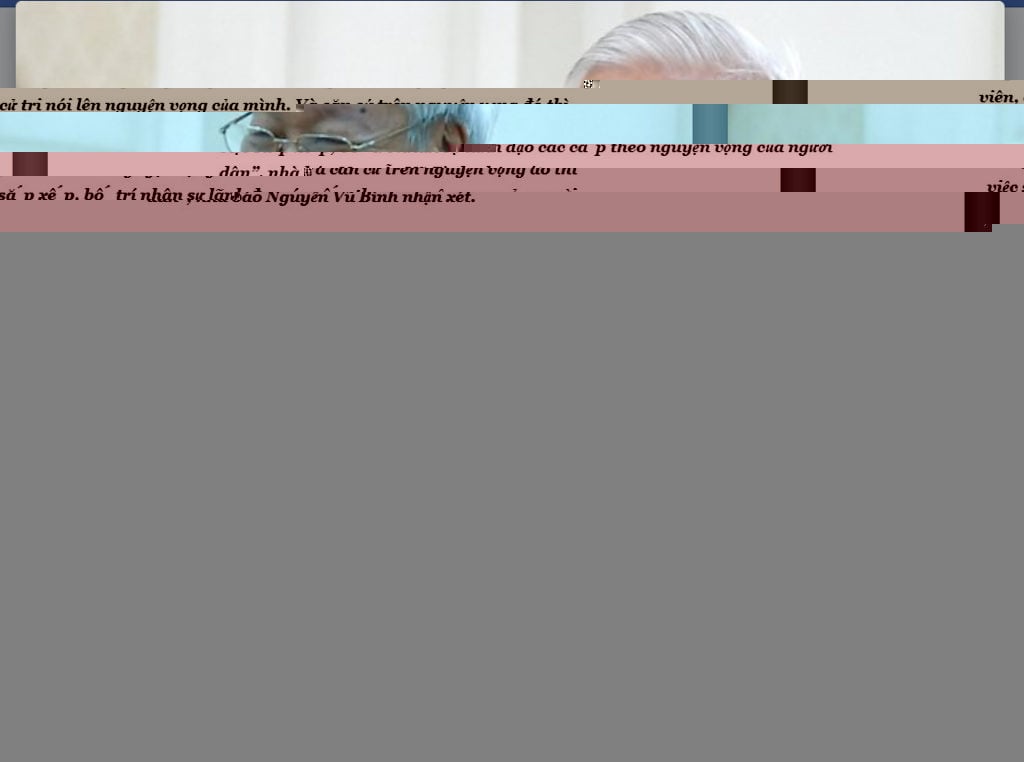 The article "Voters expect the General Secretary to stay in office again – paving the way for Mr. Trong to stay?" was posted on Radio Free Asia (RFA)'s Facebook page on June 30, but it was blocked by the giant American social network on July 13. Accordingly, Facebook users in Vietnam cannot view the content of this article.
Thus, in only 4 months between April and July this year, Facebook has blocked the access of people in the country for 5 posts on social networks of RFA with the reason given by Facebook: "Because of local legal restrictions, we restrict access to your posts in Vietnam."
Earlier, the article "Re-calling the overseas Vietnamese community to accompany in the fight against the COVID-19 pandemic when meets troubles!" was blocked on April 21.
In the same May, two other articles, Mr. Trong's request for Central Committee's members in the 13th tenure titled The old instructions!" was blocked on the 5th and the article "Supreme Court of Ho Duy Hai case" was blocked. blocked on the 16th.
In early July, on the 2nd, Facebook did not allow domestic users to access the article "13th National Congress: Cannot have worthy political report of Dr. Pham Quy Tho."
The situation of blocking posts, deleting posts, limiting sharing on Facebook social networks has recently become more and more common when many civil activists and independent journalists have repeatedly said they have lost articles.
Once deleted by many Facebook posts on his personal page, freelance journalist Nguyen Ngoc Gia from Saigon commented on this situation as follows:
"I'm not surprised that posts that contain hate speech and promote violence are deleted or blocked by Facebook or being treated by any other form. But for mild articles, and judgments based on objective science are also blocked by Facebook from sharing or deleting articles or other forms, that expression is clear for people to see the article. Vietnam's authorities dont want local people not to see them so they force Facebook to stop that post. Since Facebook is a business corporation that puts profits first, in this case Facebook is forced to make concessions and cooperate with the Communist government of Vietnam is understandable."
Talking to RFA on the evening of July 13, independent journalist Ngo Nhat Dang said that Facebook's restriction of information at the request of the Hanoi government was not surprising. He posed the question:
"We see a phenomenon that not only Facebook but both Twitter and Google have been blocking posts that they think they are sensitive information. Even Twitter blocks even tweets from President Donald Trump. There has been politicization in the information network, social networks, and this issue raises many questions as to why there is such a problem in information blocking and censoring in this era? Is there any interference from outside political forces? "
The Diplomat page on July 9 also had the article "Facebook: Vietnam's Fickle Partner-in-Crime" to talk about the situation that the Government of Vietnam agreed to cooperate with Facebook for the country's own benefit.
The article mentioned a speech by Minister of Information and Communications Nguyen Manh Hung in August 2019, saying that Facebook is limiting access to a significant increase in the amount of content in Vietnam. Mr. Hung added that the social media giant meets 70-75% of the Vietnamese government's request to restrict posts.
Notably, Facebook confirmed that the content that the company has restricted access to in Vietnam increased by more than 500% in the second half of 2018.
However, Facebook has consistently denied allegations that the removal of user-posted content comes from political pressure, which is implemented based on its social community standards. The author of the post on the Diplomat said that the explanation was to justify the removal actions of Facebook.
On April 21, Reuters posted an article saying that Facebook has begun to significantly increase the censorship of "anti-government" content in Vietnam. The content just mentioned was verified by two sources from the Facebook company.
Specifically, according to Reuters, this measure was taken after pressure from the authorities, including that the group suspected state-owned telecommunications companies restricted access to local servers, making Facebook unable to use for much of the time.
Therefore, from a personal perspective, journalist Nguyen Ngoc Gia said that not only is the social network linking people, but Facebook is also a business company, so it still needs revenue to operate:
"They are caught in the middle of profits for their businesses while protecting the free voice of the Vietnamese people. It is a rather difficult problem with the communist regime in Vietnam, which is the information-hushed regime in the top 20 hostile countries of the Internet's free speech. That is very difficult for Facebook."
Therefore, journalist Nguyen Ngoc Gia said that in order to solve this situation, it is necessary to have influential interventions to be able to improve from Facebook.
As Facebook was forced to cooperate with the Hanoi government to survive in Vietnam, journalist Ngo Nhat Dang said that Facebook also made a profit from ads. Therefore, he suggested that Facebook needs to reconsider:
"I think people come to Facebook to go to the platform of freedom of thought, freedom of speech when not shown in other channels. If Facebook prevents some sources of public opinion for some reason, then they first politicize in business. Second, with those, Facebook will suffer losses. People also know last month there was a wave of a boycott of Facebook, in a Facebook transaction lost more than $7 billion. I think this is also a way for Facebook executives to rethink the direction of how to run Facebook back to the right place for people to express their views on it, including political views."
Recently, Facebook has set up an independent agency to resolve disputes regarding content removal.
According to the author of the Diplomat article, although the effectiveness of this newly created agency is still a big question, Facebook has provided a platform for activists in the digital age, including even people from Vietnam, to listen to the cases raised.
On July 14, we received a reply from Amy Sawitta Lefevre, Facebook's Communication Policy Manager:
"The Government of Vietnam has instructed us to restrict access to content that is considered illegal in Vietnam; however, people outside Vietnam may still see them. We believe that free speech is a fundamental human right and is working hard to protect these important civil liberties worldwide. We take this approach with a vision that will ensure our services still available to millions of people in Vietnam who rely on Facebook every day."
Thoibao.de (Translated)
Vietnamese Source: https://www.rfa.org/vietnamese/in_depth/facebook-restricts-access-to-5-rfa-posts-in-just-4-months-07132020152632.html?fbclid=IwAR1fUtGb-OZQvSiSVOQuMNxbVpi9FY6jJZjJqHrBhKuBY9xBu__ekXhgA-A