Phung Huu Phu, vice chairman of the "Central Theoretical Council" of the Communist Party of Vietnam (CPV), was recently quoted by the state media as saying "the roadmap for the transition to socialism is a very difficult task, unknown for the party and as it has not been applied for a long time, and needs further study."
Regarding Phu's statement, on his personal Facebook page with 310,000 followers, independent journalist Truong Huy San wrote a question that: "Why these roads have not been studied but you still force the nation to follow?"
Blogger San's question has received 5,400 likes, over 200 shares and nearly 500 comments.
Minh Nguyen: Pretending to have a way to justify dictatorship.
Minh Dang: To preserve the power monopoly and stability of poverty?
Cuong Quoc: Going forward to socialism is like boarding the Cat Linh-Ha Dong elevated train (which has not been put into operation and would be for years)
Hoang Hugo: For the sake of the senior communists! The way for them to steal from millions of people
Nguyễn Phú: In my opinion, you can have a mistake … They know that the road helps them have more fortune and hold power for longer than possible.
Namviep Nguyen: So we are sheeps …, no, wer are white rats for their experiment!
Minh Hoang: They continue the road ven if there is a wall, a bush, and a manure pit.
Hai Nguyen: If you guys have had researched seriously, you would have thrown it into a trash can and chose another path 20 years ago.
Long Ha Van: It seems that the road ahead is like the path of the blind, walking and walking with the walking stick and not seeing anything ahead.
Le Hung: Because of the other explicit roads, the idiots and lazy idols will only eat bran. But following this way, the idiots and lazy people will have a special villas, their children to study abroad, and their family will be rich forever.
Toan Nguyen: They dont want the path of bright civilization because they are afraid of being eliminated, so they prefer to go the path of ignorance to have room for them to dig.
Thanh Nguyen Huu: The road is clear as day. But in this blind paradise, the Communist leaders are all blind.
Huy Nguyen: They prefer to to to the way to protect the Party and their interests. Because this is the nature of communism. They dont care about the lives of other people.
Hoang Tran: Because the road they enjoy privileges without resistance.
Mainhung Vo: The council is full of old dogmatic old heads that you listen to and take the entire nation to death.
Ngo Chi Nhan: You all know that there is no road, but you cheat people to take advantage of you, taking your lamppost to another direction …
According to Thanh Nien newspaper, Mr. Phu said at the central rapporteur conference on the morning of June 10 "about new points in the draft document submitted to the XIII Congress of the Party."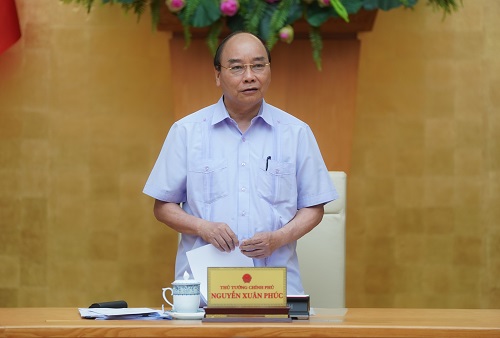 Also in his speech, Mr. Phu "exploded" that Vietnam became a "socialist-oriented developed country" in the middle of the 21st century.
It seems that the closer to the 13th Congress, the Communist Party leadership officials increasingly take advantage of "explosion" about the country's antecedents, with "winged words" about the outstanding development … "in the next few decades" – the landmark time that hardly anyone can wait to verify.
Still following Mr. Phu's words, "This is a cognitive innovation because previously we set a goal of becoming a modern, industrialized country in the direction of socialism and this time the goal is a developed country."
The Central Theoretical Council is the advisory body for the CPV on "issues of political theory, Marxism-Leninism, Ho Chi Minh ideology and socialism, also directing and planning policies." It is preparing documents for the 13th Congress, which is scheduled to take place in January 2021.
Mr. Phu has been recognized as the vice chairman of the above-mentioned agency for more than nine years, previously the deputy chair of the CPV's Central Committee for Education and Propaganda Department and the deputy secretary of the Hanoi Party Committee.
It seems that Mr. Phu "exploded" very hard but did not understand what he was saying so he later explained quite vague: "A modern and developed industrial country has a relationship with each other but not the same. In the process of drafting a document, some people criticized that if it was a developed country, the development level was very high, at that time we were no longer a 'socialist orientation' but actually entered a social period."
Also on the subject of socialism, CPV's General Secretary Nguyen Phu Trong once confessed his thoughts that surprised many people.
"… Building Socialism is still very long. By the end of this century, it is not known whether there will be complete socialism in Vietnam," General Secretary Trong said in a meeting at the 6th Session of the 13th tenure National Assembly in October 2013.
That statement revealed the fact that Vietnamese communist leaders did not have any plans for this country. Instead, it is hoped that at some point, eventually, Vietnam will be able to achieve its desired goals.
Such a statement by General Secretary Nguyen Phu Trong left the blog Teu with no other way but to say: "Oh my God! Uncle Trong makes me so frustrated! Then my life has no luck to see a socialist paradise! … Oh well! If we don't dream of heaven, then we can live with this hell! "
Blogger Nguyen Tuong Thuy "confided" to "Uncle General,, that "I can't tell you how panic I was at that time."
Then suddenly today, I said … building socialism is still very long. When I was young, just watching the atmosphere at that time, I thought that our country, very hard, only ended the twentieth century with communism.
Yet, into the 21st century for more than a decade, he "threatened" until the end of this century, still not sure whether there is socialism (but not dreaming of communism), I do not know in whom to believe. That means my life and your life have not yet seen socialism," blogger Nguyễn Tường Thụy said.
Once Professor Dang Phong, a political economy expert at the National Economics University, spoke to Radio Free Asia about this issue.
Phong explained why Vietnamese leaders still embrace socialism:
"Socialist society is a past salvation that I can no longer accept, but I cannot frankly declare my departure from it, so use a very vague generic word like that. Now that I am engrossed in seeking socialism, I will never find its true value. What its true content is, it cannot be found. It is a debt of history … "
Colonel Pham Xuan Phuong, who had worked for many years in the General Political Bureau of the Vietnam People's Army, explained why General Secretary Nguyen Phu Trong always asserted that Vietnam did not change its goal of "moving forward to socialism" athough recognizing the socialist path is still very long. By the end of this century, it is unknown whether or not there has been complete socialism in Vietnam."
"Basically he can't afford him to understand, but besides that, it's also a benefit. He is ignorant to enjoy all the benefits, but nothing changes while he is king in this country. Those things are related to each other, creating bonds. And just like that he sang. Vietnamese intellectuals, even the most royal, cannot hear and accept what he has to say."
According to blogger JB Nguyen Huu Vinh, "After decades of affirming the transition to socialism, the 'party and uncle Ho' has chosen for the Vietnamese nation, incumbent communist leaders acknowledged the ambiguity of putting faith in it."
In a letter to his former student named Chi Linh, Mr. Tran Thanh Nam noted "Thinking about socialist gratitude":
I don't know what socialism is in fact, and how it seems no one knows, people just draw it very well in theory and want to build it. But the countries that seem to have it nearly collapsed in mass – because of the fact that people in its name – Socialism – acted badly and wrongly … Probably because of it – Socialism, is wrong and does not reflect human nature. In short, I simply cannot teach you to put gratitude on something that doesn't exist …
Thoibao.de (Translated)